Choked on a chicken bone and died.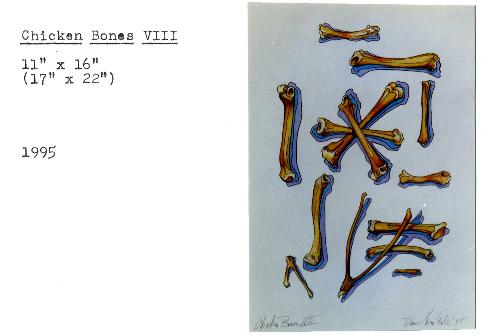 India
June 9, 2008 11:08pm CST
Yesterday we freind decided to go and have lunch together and we were all in a terrific mood. Each one was remembering funny things we had shared together and we were laughing and chatting. We placed our order for chicken with gravy and all dived into it with gusto. In between mouthfuls of chicken, one of my friends started gagging. We thumped her on the back, gave her water but the tiny chicken bone lodged in her throat was stuck . We rushed her to the hospital but she was declared dead on admission. We were shocked. Life is so very unpredictable. One moment we were laughing and fooling and the other moment she is no more. I miss her a lot and may her soul rest in peace. I just wanted to share this with you so that we may all be careful of tiny chicken bones when eating.
3 responses

• Philippines
27 Jul 08
that is really a shocking experience kethy. that was so unexpected! we can't really tell what the future holds for us. its also a freak incident. who could imagine that one can die with a small chicken bone? that's a really peculiar way to die. maybe it was really her time then. i'm sure everyone of your friends was shocked too. if i was there i would probably be shocked and wouldn't believe it until i see her being put in her grave. because that is really unexpected and a freak way of dying. we can't really predict when we are going to go. if its time then its time. maybe she's in a better place right now kethy. i'm sorry for your loss. now i'm sort of glad that i don't eat chicken anymore. but one thing i'm wondering about, why did she eat and swallow the chicken bone? didn't she feel something hard when she was chewing? did she like chicken very much? how can she swallow something hard like a bone..

• India
28 Jul 08
The chicken pieces were small, so one just had to put the fork in the mouth with the small piece. Maybe that is why, she must have just swallowed, thinking they must be boneless. Actually, I too have seen many small pieces of bone in the chicken if it is cut small. Its a sad way to die and as you said, maybe her time was up for we all have to face our Creator. I enjoy tandoori chicken and what with all the spices tandoored to perfection. So now I too am extra careful. Thank you for your kind condolence. It means the world to me.

• Philippines
28 Jul 08
oh i see. that's just so sad. dying in a way we didn't expect. well i'm sure she's happy up there because she has friends like you who loved her and are praying for her.


•
3 Aug 08
aww i'm sorry about that hun maybe god needed another angel


• India
11 Jun 08
Gwenns, many thanks for your condolence. We miss her a lot. This was an eye opener to us too, for we never bother whilst eating chicken. Please pass this on to all your loved ones.


• India
11 Jun 08
Thank you for your condolence. We miss her a lot and its such a freak accident, what with us eating chicken practically everyday. Please be careful and pass it on to all your friends and loved ones.