Here's I'm Back, With My Vacation Photo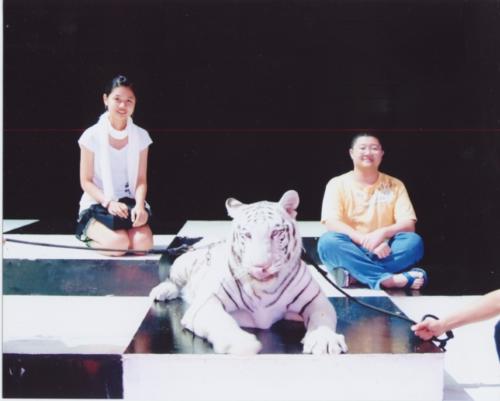 Malaysia
June 10, 2008 9:37am CST
Here's I'm back from vacation. Luckily can back on time and continues earning from MyLot. The day we went to Genting, we get two free "Dreamz" ticket, which is a mixing of dancing, acrobat and magic performance. The performance is show with some animals, which is two big-size dog, tigers, Siberian Tiger (A.K.A White Tiger) and white lion. After the performance, we having chance to take photo with two animals, white tiger and white lion. We (my sister and I) take both. Since MyLot can only upload one photo each time, I just upload the photo of white tiger.
2 responses

• Canada
10 Jun 08
Looks and sounds like you had a good vacation. I do love that picture of the white tiger. Makes me want to come over there and steal the tiger. My fiance wants to get a white tiger which is quite funny actually. You could have a dog, cat etc but nope he wants a tiger. Don't think our government would like that one too much.

• Malaysia
10 Jun 08
The vacation is quite good, and the temperature is around 16 degree Celsius to 20 degree Celsius when we are there, which is a quite cold place in country of equator. Having white tiger in our house in country is 100% not allow. Maybe you can try to have one



• Canada
10 Jun 08

Here in Canada we are not allowed to have them either. Guess he will have to move somewhere where he can have them.