Distance between Home and Office..?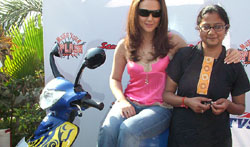 India
June 10, 2008 12:38pm CST
What is the distance between your home and Office.. I use to travel around 60 kms. up and down from my home to office daily by my scooty.. Morning it will take more than one and half hours to reach my office, and evening, according to the time when I start from office, it depends, the range between 1 hour to 3 hours depends upon the Traffic condition of the Road. Since i have a Two wheeler, i use to come on the way, where ever i found the place on the road, where ever the traffic.. What about your office distance.. is this near by your home.. or in which mode of transport did you use to go to office..?? Post your commnets..
3 responses

• India
11 Jun 08
i m lucky to have my place locted near office...ie i take about 15 minutes to reach office walking but wid summers here i cant afford walkin in hte morning so i take a cycle rickshaw n i prefer walking back home after work as i like walking n i guess it sthe only form of excercise i can get

• United States
11 Jun 08
I live about 11 miles from where I work. It is usually not a bad drive, but it depends on the time of day that I have to be there.

• Canada
10 Jun 08
I work for myself, but I do not have internet access at home, so I have set up my office in a chair at the coffee shop up the street. It's only about one mile away from my home, and a very quik ride on the bus.