I would greatly appreciate your thoughts on this piece..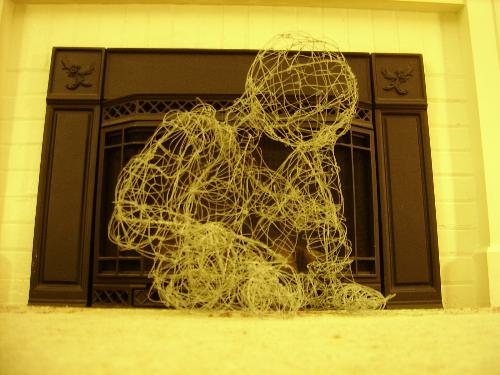 Canada
June 10, 2008 2:57pm CST
I made this from steel wire I got from the dollar store and a pair of rusty pliers. I ran out of money for now to buy any new canvases. I thought I would try my hand at wire sculpture. This is a baby looking down at his feet. I would really appreciate your thoughts on this. My son likes it, but he is nine and I was hoping for a more adult perspective. I find it really hard using new materials and I am feeling a little insecure. Thanks for your help!~†
5 responses

• Brazil
10 Jun 08
Hi my friend shannonjyl, how are you my dear? I love this work. You are an artist and creative person so you don't need to be afraid with new materials because you can try anything and it will become a good work. It is a look simple but complicate lines work. Very difficult to get but you did it! Have a nice day my dear.

• Canada
11 Jun 08
Thank you my friend teka44. I really do appreciate the supportive words. You are a good friend. I will try to find more interesting materials to work with. What about combining canvas with the wire! That would be an interesting adventure! Thanks for being my friend teka.

• United States
10 Jun 08
i think the sculpture looks very good...but added with the coloring and the lighting of the photo....it looks
AWESOME!!!

seems you've really got an eye for art. keep up the good work, hope to see some more of your work.

• Canada
11 Jun 08
sconibear, I thank you so much for your kind words. I do kind of have this love hate relationship with my camera. I want it to do so much more than its price tag will allow. Maybe next year I will have to sleep with santa! Your time and your response means a great deal to me. †

• United States
10 Jun 08
I think it is really good. I would like to have it on my mantle. Are you selling it? Don't be afraid of new materials. That's how we grow as artists. Put your' insecurities aside. The piece is really good.

• Canada
11 Jun 08
HI rebeccalynn, when I open my computer this morning and saw all the responses I have received I almost cried. It has been a loney time for me and It made me feel a little more connected to this universe and human. Thank you for your kind comments. I put it on my own mantle as a reminder to try new things and always grow. do you know of any good sites for artist that can sell their stuff without paying the vender? I really do appreciate your comments. I hope you have a good day †

• United States
11 Jun 08
nice form! very well balanced.i like the yellow color of the wire-stands right out at you.

• Canada
11 Jun 08
HI scarlet_woman, It is always so nice to see your name. Thank you for your comment. It helps me in my quest to expand and grow as an artist. I think if we all had a little more support in the things we do the world would be a better place. You and your response made my world a little better today. Thanks again scarlet†

• United States
12 Jun 08

you're welcome . hey i have a promo list for artists you're welcome to add your site to-PM me if you're interested and i'll send you the link.

• United States
12 Jun 08
i think it is cool..it looks like one of those 3D computer models of a human figure. i like ur paintings too. u should show it at some art gallery or at least create ur own art gallery and invite others to check it out.

• Canada
14 Jun 08
hi! Thank you for the kind comments. I think it is time I devoted some time and effort to promote myself as an artist and not just a mother. It is scary taking that leap!