Asians and Africans or Americans and Australians - Who are more civilized?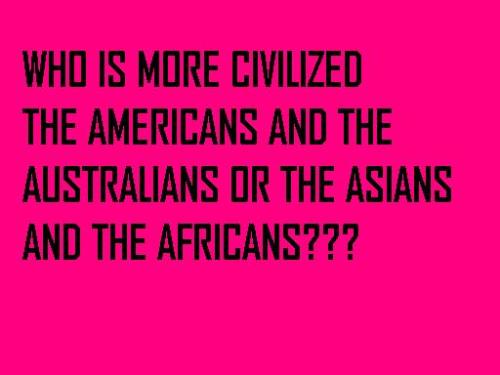 India
June 11, 2008 12:45am CST
friends don't take me wrong here but yes i would like to know what do you think about civilization and would also like to know whom do you think are the more civilized? The Americans and the Australians or the Asians and the Africans. I have actually asked this question because one of my friends here on mylot who comes from Australia has told me that the Australians and the Americans are more civilized and more developed than us Asians. She also said that we people have really got a very low level of thinking and we are not open minded.
6 responses

• United States
11 Jun 08
I think people are either civilized or not.Nationality doesn't always have a lot to do with it.I live in a small State in America and there is a city not far from me where I would say the majority of those people are uncivilized.There are also many cities around these states where the people just aren't civilized. However there are countries that as a nation are uncivilized I couldn't begin to say which ones,I would not have an educated opinion about that.I do believe that even from these places you can find civilized people just maybe a little fewer and farther between. Jas

• India
11 Jun 08
your response seems to be a lot more diplomatic then what i was expecting it to be. anyways yes i do believe that countries specifically cannot be told that they are uncivilized.. and yes i would like to say that as more of the countries in asia and africa are developing you will find people becoming more civilized now.

• United States
11 Jun 08
I totally agree with you Jasmin, We are so culturized anymore, people don't realize that right next door or down the road or there are many that are uncivilized, compare to what the standards are today. I am also learning that the word open minded, what is so wrong in being a little closed mined sometimes, I know both, and if I could do it all again I wished I was as nieve as I was when I was a child. It was easier, I know that sounds closed minded. But, my open mindiness has gotten me far. I thank God for some of the uncivilized people in the world. They teach us something, that there is more then what we have in material and such. It teaches me, we have not always been the way we are today.

• India
16 Jun 08
It'd difficult to generalise. When it comes to mannerism I find East Asians much more civilised than others. But when it comes to technological advancement Europe, US, Canada, Japan are, I think, ahead of others. But we South Asians are generally uncivilised. Look at the way people throw their garbage anywhere... that's just an example.

•
16 Jun 08
It depends what you mean by civilized, in my opinion Africans and Europeans are the most civilized. all the best urban

• Pakistan
13 Jun 08
yes thats right dear your friend is actually right they are more civilized then us but in some matter they are behind us i can't explain you more have a nice day

• Australia
11 Jun 08
That is a subjective topic. Reason being how you define civilization. This is the definition of civilization I've found in an online dictionary which states " An advanced state of human society, in which a high level of culture, science, industry nad government had been reached" As the definition evidenced, your topic is quite subject. This is because, every individual have a different belief in what they think is high level of culture, science etc. Personally, I think people who still lives like they are in the stone age in a modern town is not civilised.

• India
11 Jun 08
Well, your friend doesn't know what she is talking about. Culture and civilization doesn't depend on geography. All of us have a culture that we are proud. Only some stupid people say that their culture, color, religion, and so on is better than the others'. Cheers and happy mylotting