ice cream? of course I love it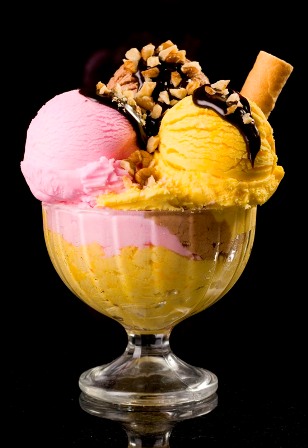 Malaysia
June 13, 2008 9:43am CST
em emmmmmmmmmmm I love ice cream. Every time talking about ice cream it make my mouth melting. I love chocolate flavor and vanilla. Sometime when my girlfriend angry i will buy her an ice cream because she also love ice cream. Normally after finish an ice cream she will be ok. But not all the time hahahah
4 responses

• United States
13 Jun 08
I like ice cream. I really like soft serve ice cream in an ice cream cone. Pump N Pantry has a special right now any size ice cream cone is only .60 cents so I have been enjoying those my favorite is mint chocolate chip.

• Malaysia
13 Jun 08
In my country a good ice cream a little bit expensive. may be if convert to USD it just a few cent but in Malaysia. a cone of ice cream is somewhere around RM (Ringgit Malaysia) 1.50 until RM 5. So we are only but the ice cream when we think that we really want it and afford to buy it.

• Singapore
14 Jun 08
I like ice cream too but i dun eat too much as it's fattening.. I like oreo ice cream and chocolate chips ice cream.. But it's been a long time since i last eat them.. Almost half a year, i think.. lOL

• Philippines
13 Jun 08
hahahaha...the same deed my ex bf is doing to me everytime i am mad hahahaa.. and it really does work...maybe when i called it quits only if he gave me ice cream that could have changed(lols) (just kidding) my fave is pistachio ice cream the best!!!!but chocolate ones still on the list...heheheh

• United States
13 Jun 08
Yes, ice cream is always a very good treat... especially in the summer when it is so hot (like now). Though I tend to be rather boring and like the vanilla-based flavors better than the chocolate ones, haha. But ah, yes... ice cream is great!