Spinelli's 'Make-Over'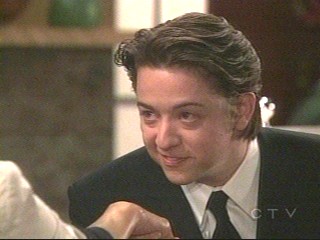 Canada
June 13, 2008 11:00am CST
Wowza---what a difference. Gooooo Jax. The white knight is after all, pretty suave and a great teacher!!!! What did you think? Do you wanna see it last? Do you like the new and improved Damien?? Or do you prefer Spinelli just being Spinelli? Will it impress Maxie? Lulu??? Leyla?? Nadine?? Who else would you like tosee him with? And what about that accent?
5 responses

• United States
16 Jun 08
Sadly, I missed all of last week cause my husband was home on vacation. Guess I will just have to see what happens.

• Canada
18 Jun 08
No worries Jill! You can catch the spinelli make over on You tube. Here is the link: http://www.youtube.com/watch?v=yqW8CATVu94 Enjoy, I know you won't want to miss it!

• United States
13 Jun 08
I would like to see the more improved Spinelli.Maybe not quite like he was yesterday,but if they don't improve him a little,he'll get boring,and stuck in the same old plots over and over.Maybe a half spinelli,half Jax Jr.Maybe he's Jax son.Hmmmm.

• Canada
14 Jun 08
I really like your perspective on this, and I tend to agree with you. I hope he does turn out to be Jax's son! Thanks so much for your response.

• United States
14 Jun 08
I feel sorry for Jax,because he wants a child so bad.and I think it would be great if it turned out he was Spinelli's father.I'm anxious for them to get into Spinelli's background and family.Or maybe his father and Sam's could be the same,then they would be siblings.Oh well,I'm getting carried away here.I read somewhere that jax was leaving.

• United States
17 Jun 08
As always I'm late to the discussion so I have seen that Maxie wasn't impressed. I do like the new and improved Damien. I would like to see more of him but with the Spinelli "flair". Spin is actually very smart and well rounded he just doesn't know how to show it. I think that he has the chance to show it in Damien. I hate that it was short lived thanks to SonnyASS. I wish Damien/Spinelli would have stuck up for himself!

• Canada
17 Jun 08
Better late than never, Eb! I feel Maxie wasn't impressed, because she doesn't want him to change from the sweet, goofy guy Georgie was in love with and perhaps she is falling for now too. Yep, I hate the way Sonny treats him too. Just once I'd like to see him apologise. Maybe someday.

• United States
14 Jun 08
The change was fun, but it isn't Spenilli - it is Damien. I don't see a "point" to making spenillie like this...Damien is just another character in town. But Spenilli - that guy is the brings the breath of fresh air to the show. THeconstant battles over babies and mob areas...quite boring now! But throw in Spenilli to give us a much needed, comical break!

• United States
13 Jun 08
I would love to see Spinelli with Maxie but she not trying to do that because Spinelli's friendship means so much to her so that a cookie point for Maxie because it shows she is grow up and no a selfish a Lulu whom only talk to Spinelli when she needs something. And Lulu is just STUPID all round and annoying. I think i can see him with Layla she smart like Georgie and has a little bit like Maxie she a little bit of both sister in one. What more can he ask for.