What type of books are you interested in?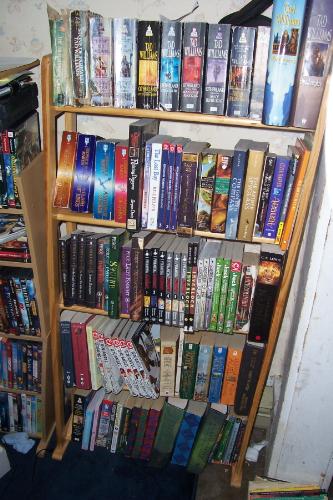 United States
June 13, 2008 6:31pm CST
I am a very picky person so it's hard for me to just go to a store and pick up a book, the cover has to be interesting, or the person recommending the book has to make me really want to read it! I have a good little collection. I read mostly tad williams, but I can read books like the poy called it and they caged the animals at night, they make me cry but they are good educational reads. I own ALL of Tad William's books. I own most of Tamora Pierce's books, but I'm still collecting, and that's what I think I'm going to spend my mylot money on!! I own the Elderest and Eragon books, yeah backwards sorry. I have the golden compass and amber spyglass although I haven't gotten the chance to read them A ton of Manga, anime comics, and a few web comics turned into books to donate to the wonderful artists that work hard to make us enjoy such things. what type of books do you read? And do you have any recommendations? Remember if you want ME to read them you need to make me WANT to read it:D
10 responses


• United States
14 Jun 08
I like non fiction, self help and fantasy books. I am not collecting books. I can read some books twice, but most likely just once.

• United States
14 Jun 08
I like reading and rereading because I am usually just as interested the second and third time around but with most of the books I read they are large and really not something easy to read multiple times, but I know I at least have them to reread and remember :)

• United States
13 Jun 08
I like just about all types of books fiction,non fiction, horror, history biography, autobigograhy you name it I've probably read something like it, The only time of book that I really dont care for thta much is science fiction.

• United States
14 Jun 08
I agree with you about science fiction, I'll probably read any other book but there are only VERY FEW sci fi, just because... well most of them are about people in futuristic suits. Although The otherland by tad williams is a GREAT read even if it is considered science fiction It's actually pretty good!

• Canada
13 Jun 08
I am mostly interested in non-fiction. I am a very literal realistic person, and a lot of fiction is just beyond me. I also like reading books about women's issues, and what women are experienceing today, and what they have experienced in the past.

• United States
14 Jun 08
you know what... reading about real things is pretty good although I'm not sure, it tends to get boring and what not, I mean I know people have interesting lives but to make it fictional... anything could happen around the corner, of coarse within reason. Thank you for sharing your thoughts!!

• United States
27 Jun 08
I thought I answered this. Well here goes again. I'm typically interested in science fiction. After that, fantasy. Then there are cookbooks, techbooks and science books. Then on the next tier its non-fiction. There are also manga and comics, but those really aren't counted as "books" in my view.

• Philippines
16 Jun 08
i love to collect cookbooks,well basically because i really love to cook.,im also into fashion magazine.,i'd love to look the latest fashion and see whats in and out,..just loved it!aarrrggghhh...


• Ipswich, England
14 Jun 08
I would like to read SF books as well - sf to classic types - like Enchanted - I just loved that one. I would also like to buy and read the Warcraft Series, Dune, Eragorn, Harry Potter as well. I also like detective books and romance books.

• India
14 Jun 08
i like to read fiction books and also auto biographies

• United States
14 Jun 08
Sometimes I like murder mysteries but they have to be interesting and they have to have a good story line. They have to keep my interest or I won't read them. I prefer the ones that are reality based. I like psychology books and books about people that society labels as "crazy."

• Turkey
14 Jun 08
I mostly love to read classics like Little Women, The Bronte sisters, Jane Austen and Shakespeare but I also love Nicholas Sparks and a lot of medieval non fiction and fiction books, mostly the ones that surround the Tudors...