hilay duff

Philippines
7 responses

• United States
16 Jul 08
Was never really considered to be a fan or not a fan for that matter but I watched her in a movie with Heather Locklear as her mother and Chris Noth was also in it, I think it was called The Perfect Man, but I do not exactly remember. Either way, I thought it was a cute movie and I enjoyed her character. I would probably watch another movie of hers if it was on but don't know if I would run out to see one just because she was in it.

• Philippines
28 Jul 08
she's a great actress, she's not like the other teens who are so over acting with their roles. hilary knows how to carry well her role and she can portray them the way it should be portrayed. she seems so natural once she acts, and that is what i like her. but i go crazy once she started singing! she's really a diva!

• Malaysia
2 Aug 08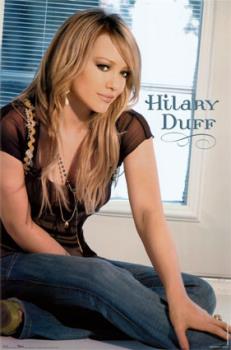 ooh i love hilary duff too! not only she's pretty but a very talented singer and actress as well. love to watch the movies that she's in and listen to her songs.

• Philippines
3 Aug 08
yeah, you're right. she's good in everything she does. thanks for the reply!

• Philippines
28 Jul 08
Like? I love her.. she rocks!!! I like cinderella story too!!

• Philippines
28 Jul 08
yeah she really rocks! almost all of her movies were my favorites.. i can relate well with the stories and hilary does really good in acting and singing.. i really admire her starting from the day i discovered how versatile and flexible she is as an actress.. i hope she can have more movies soon!

• United States
16 Jul 08
I do! Hilary is
GREAT
! I have liked her since Lizzie McGuire, then I listened to her music, and saw her movies! I really love A Cinderella Story, but the end makes me cry, but it a good way. I love to see the nice girl get the guy! And this is a story where that happens! It gives me hope! LOL

She is very pretty. And her personality kinda remind me of myself, because she doesn't really seem to get herself in trouble or bad situations, and she seems genuinely nice and innocent! Also, I had a crush on her ex-boyfriend Joel since she was still in middle school (or something like that.haha). LOL

So I think we probably have similar taste in guys, even though she did dump him. LOL Anyway, glad to see I'm not the only fan here!

• Philippines
28 Jul 08
being a Lizzie McGuire made her very famous specially to teenagers. all her movies were very nice. all i can say that i never regret watching any of her movies, because after spending long hours watching her movies, i end up very much contented and carried away. lol. she's so pretty, she has an angel-like face! she's also down to earth and she seems so friendly. i hope someday i can meet her personally. haha.


• China
21 Jan 09
I've seen her Material Girls. I know more her songs than movies. Yeah, her voice is really beautiful. I like Come clean, Sweet sixteen, Anywhere but here....