Laptop or Desktop?

United States
11 responses

• Australia
3 Nov 06
I used to prefer a laptop for it's mobility, but I have a desktop now. I could get better features for cheaper buying a desktop and it's easier to upgrade. Plus I sometimes play games like Sims 2 or Civ 3, and my old laptop was just too slow to handle it!


• United States
3 Nov 06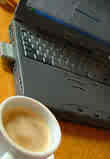 I prefer a laptop, because I'm not confined to any one spot to use it. I can still use it at a desk or table if I need a place for my papers or candles. If I'm just online chatting though, I can move to the couch and just sit with it in my lap and chat during commercials on TV.

• United States
3 Nov 06
I prefer a Laptop. Can freely roam around the house with it. Can watch TV whereever, and when the power gos out you can still use it for non-internet things.


• India
3 Nov 06
I like laptop.. u can work from any where if u have internet access.

• India
3 Nov 06
Lappy because it could be carried anywhere. desktop because its much better in terms of playing games.

• Indonesia
3 Nov 06
i like laptop better.. it's small and compact