Johnny Depp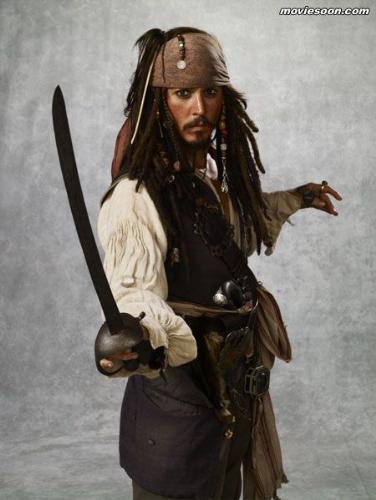 China
June 14, 2008 11:32am CST
hey.anyone is a fanatic of Johnny Depp?please stay to show how u are crazy about him.. I like him very much.not only his roles in the movies but also a unique charm attracts me greatly!his roles in the play vary a lot,i admire his remarkable acting and his personality. what do u think?which film do u like most?
6 responses

• United States
14 Jun 08
I am such a huge fan of Johnny Depp, and have been for years. There is something so charming about him, and the funny thing is, my 13 year old daughter feels the same way. We are, in fact, having a Johnny Depp marathon, as I write this post! We are watching Benny and Joon right now. I own many of his movies, including Edward Scissor Hands, What's Eating Gilber Grape, Sweeney Todd, Charlie and the Chocolate Factory, And Chocolate. He is incredibly versatile, and sexy as hell.

• China
15 Jun 08
He is universal unparalleled hot guy!He glamorous devil with manly personality,and evil angel with womanly elegance!He is really amazing!

• Australia
22 Jun 08
I have all his films..except Sweeney Todd as it isnt released here yet.I also have his band's ("P") album. I have loved him since I first saw Edward Scissorhands.His talent is just amazing!! I am always amazed at how he can become a new character each time. www.freewebs.com/no1deppfan

• China
24 Jun 08
yes,i was first impressed by his unique and outstanding role in Edward Scissorhands.and several days before i reveiwed the moive again,and found that his acting is really terrific!!he has a bewithment to make me become crazy about him~~his charaters diversify a lot in different films which made him a versatile g


• Philippines
14 Jun 08
I like Johnny D. so much. I watch these movies; Pirates of the Caribbean 1-3 Sweeney Todd Cry Baby What's eating gilbert grape Benny and Juniper Charlie and the chocolate factory Once upon a time in Mexico Sleepy hollow The libertine Arizona Dream A nightmare at elm's street Thanks for the post.

• China
14 Jun 08
wow..u have seen all the films by him ?i haven't seen the movie Sweeney Todd yet,how is the movie?

• United States
24 Jun 08
I loved Once upon a time in Mexico. Loved Cry Baby, in fact I used to watch that movie everyday...lmao... As well as every other movie you posted. The reason I am commenting is because I forgot about The Libertine. I bought it and owned it forever and it just sat in my collection, well, collecting dust pretty much. I finally decided to watch it one time when the cable was shut off, and it was another amazing job done by the sexiest man alive. Most people probably haven't seen it, but if one of the reasons you love Johnny is for his unique roles in films, then this is one to watch. You forgot Fear and Loathing in Las Vegas. We probably forgot many other's he has done, he is truly amazing.

• United States
24 Jun 08
We also forgot about... Donnie Brasco, which was a great movie. and DUH, the movie Blow was GREAT! I also love Johnny because he is an amazingly articulate and smart man. He's just amazing all around. I wish I could get a chance to sit down and just pick his brain...lol... I dont care, I even love the movies I haven't seen yet...lol...


• United States
19 Jul 08
I LOVE Johnny!!! I liked all his movies. I am trying to get a hold of "The Brave" but can't seem to find it anywhere. Johnny is just so wonderful. I think he's perfect.

• China
19 Jul 08
i hope u can find it!wish u good luck!

• United States
4 Sep 08
Johnny is fantastic!! Not only is he a great actor, but he's a very down to earth guy, a bit shy, and very friendly with his fans. I have all his movies on DVD, even the ones that are hard to find (like "The Brave"). It's so hard to pick a favorite movie. The ones I tend to watch over and over are "Secret Window", "Charlie and the Chocolate Factory", "Fear and Loathing in Las Vegas", the Pirates trilogy, and "Sweeney Todd".

• Philippines
5 Jul 08
I love Johnny Depp and I've already seen a lot of his movies what I love most is BENNY and JOON, such a great story of siblings, such a tearjerker film. I love Johnny's role her, a bit eccentric type of guy who fall in love will Joon...Johnny is just this one great artist...

• China
14 Jul 08
oh...i haven't seen that ..i will see it as soon as possible.thanks for ur recommendation!

• United States
27 Dec 08
I have no idea what it is, but I admire him so much! I really love the rugged men. He really seems down to earth. Also, look at each character that he's played. He's an amazing actor! He wasn't afraid to go there in Charlie and the Chocolate Factory, and compare that to his roll as Edward Scissorhands. That takes talent. =)