My wallet flew off the roof of my car! Everything is GONE!!!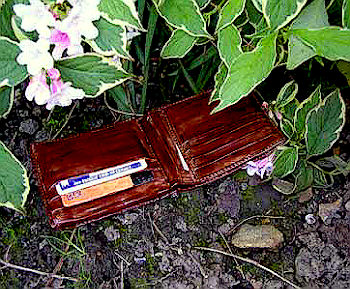 United States
June 14, 2008 1:25pm CST
When pumping gas this morning, I usually set my wallet on the roof of my car. But today after getting my receipt at the pump, I got into my car and mistakenly...drove off!!! Then three hours later when stopping to get some groceries, I realized that my wallet was no where to be found!Credit cards, Soc. Sec. card, drivers license, a $100 bill!, two credit gift cards! (I recently graduated high school) - all gone. My family searched in and around the area on foot and all they found was my auto insurance card and a receipt I had - just lying on the side of the road... Could somebody have picked it up and taken the rest? I'm praying that a GOOD person picked it up and will drop it in my mailbox but...I live in Houston. :| I already called and cancelled all the cards, put a fraud alert on my cred report, and did all I CAN do...:( Have you ever lost your wallet or purse and had to replace it ALL?
2 responses

•
14 Jun 08
Yep my partner lost his wallet and he had a fair amount of cash in it too,he went into a paper shop and he was just getting his paper and smokes and he thinks he left his wallet on the side of the counter,well he reported it to the police but there was never any trace of it again.I will hold out my hopes for you though.

• United States
14 Jun 08
There's a song by Jack Johnson called "Good People" "Where'd all the good people go" is one of the main lines. I find that that statement fits to today's society - your partner just left his wallet on the counter, then some person just came and took it, not knowing the ramifications that could have had on your partner's life! ...I still wait...

• United States
14 Jun 08
Oh wow what bad luck im sorry to hear that. I would be so pissed off if that happend to me. But if you had any credit cards in your wallet then I would call the company and cancel your cards so no one else can use them if they find them. But just hope an honest person finds it and turns it in without taking away your money.

• United States
14 Jun 08
That's what I'm hoping for...I hope I can come home from work today and find it in the mailbox... And re: the credit cards, calling and cancelling was the first thing I did! And definitely is recommended to everyone else who even THINKS they might have lost it.