Gold VS Daimond, which do you think worth more?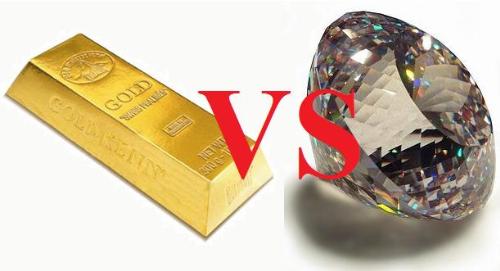 Malaysia
June 17, 2008 4:17am CST
Gold, versus diamond, which one do you think worth more to you? Gold have price that run on stock market, with one once compare to forex. That's mean gold will always have it's price. Diamond didn't. Recently people think that diamond is just a mineral (that's right, Diamond = Carbon), and think it's not worth many. But the price of the market not stable for diamond too. Sometime a very small diamond can cost many. The question is, gold and diamond, which one worth more to you?
2 responses

• Israel
17 Jun 08
I am not going to compare gold and diamonds with regard to their importance in economy and stock market etc. I will just say that ornaments made of diamonds are much beautiful than golden jewellery. I love sparking colourful diamond jewellery compared to all yellow beauty of gold. Also let me add, right now I don't have money to buy either of them.....

, but at least I can discuss about them.



• Malaysia
17 Jun 08
Ok... Well they really are incomparable. But what i do know is that Diamond takes a lot more manpower and or steps to find, make and polish it to perfection. But with gold, it can be easily retrieved from quaries. Now, Dismonds are more popular because it's very much the choices of younger peoples now. But as much as Diamond is in demand, Gold prices will never fall and just kept increasing or steady.