Are there any women still afraid to be sexy?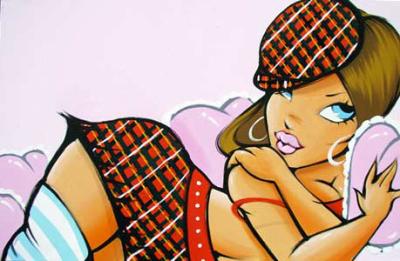 United States
June 19, 2008 3:47am CST
Here I am in my late 20s and I must say that I'm still not completely comfortable in my own skin. Even as an adult with a very curvy, yet toned body, I feel insecure in some clothes. My husband always tells me how beautiful I am and how sexy I look to him but, when I look in the mirror I can point out all the things that I would love to change. With all the sexy underwear, nighties, and clothes I buy it still hasn't changed. Can you even believe that I can't talk dirty unless I'm very intoxicated? Does any other women have this problem? Are there any women who used to be like this and broke free? Please, share your stories with me. I even purchased all these things that are Fafi to make me feel more sexy and comfortable with my sexuality. fafi.net
6 responses

• United States
19 Jun 08
Hi, I used to very insecure about going out wearing shorter dresses and skirts and low cut tops. I found that going out with a friend helps at getting you started. once you've gone out dressed like this often enough, you start to wonder what all of the fuss was about. When it comes to judging how attractive we are, women are their own worst enemy, we always see the flaws that nobody else notices. And believe me, when you are showing more skin, nobody will be looking at your flaws. After you get enough compliments from guys, you'll start believing in youself more. Esentually, you just have to go out and do it. Just make sure you carry something to fight off all of the guys with!

Hugs, Tianna

• United States
19 Jun 08
Hi Tianna! You are so right. I always see all my flaws and never see the things about me that others love so much. I think as women, we all strive to be perfect, which is an impossible feat. I always seem to cover up more when going out because I don't want to cross any lines of being sexy to looking like a stripper. I'll make sure to keep something on me to fight off those guys!lol

• United States
21 Jul 08
Oh, no problem. I loved your response. It was very truthful and open. I love when members are not afraid to share their lives.


• United States
19 Jun 08
Hun i'm very insecure... And you have seen me. I ave really low self esteem... Before i met doug i use to wear jeans and shirt thats it...when i met doug he start making me wear different clothes and making me feel more and more sexy... Than the whole fantasy thing came along with the sexy clothing in bed and thigh highs and short silk skirts came into play oh lord i was so insecure the first time i put that skirt but now i love to put it on for him it makes me feel more wanted feel more sexualy arouse you know... i still have some self esteem problems but i'm working on them i don't wanna feel that i have to change anything for my husband to love me.. You husband is doing the right thing by telling you that you are beautiful and sexy all the time way to go hubby lol

• United States
19 Jun 08
Good for Doug! Most guys don't want their women showing too much. It's nice that he's boosting your self confidence and self esteem. Thank you for the comment.

• United States
23 Jun 08

• United States
22 Jun 08
no iam not love to be sexy

• United States
22 Jun 08
Good for you! I wish I wasn't afraid to be sexy too. I always feel like people are judging me when I wear something too short, too tight or too revealing. I love to buy sexy things though...like Victoria Secret, but that's in the privacy of my home and my man thinks I'm gorgeous.

• United States
22 Jun 08
I am 20 and most people would think that I would be comfortable with my body but I'm not. I put off an apperance that I am comfortable and sexy but I don't feel it.

• United States
22 Jun 08
Can I ask why you don't feel it? Usually at 20 years old, girls are at their peak of feeling sexy. I know, I wore little tops and short skirts. I thought I looked my best around that age. I know it all depends on the person.

• United States
24 Jun 08
Sexy clothes do make me feel more secure. I'm not sure why. When I'm wearing a big old junky looking sweat shirt or T-shirt then I feel all self conscious. Maybe it's cause I know that the clothes are making me look bad. Not just bad, really fat. I'm already very curvy and got more so after I had my baby, so I don't need the extra layers. So, definitely sexy clothes do make me feel better about my curves. And, my spouse loves for me to dress up and look sexy! What guy wouldn't!


• United States
21 Jul 08
i have gotten better with my self image by flirting with other guys lol.. when i was in childhood and always called ugly then now that i know im not and have grown out of it im more comfortable in my body and in my interaction with others.. i still pick apart my body like any one else and i would love to get like a boob job or something but i at least feel that i can be sexy to other people.. i think if you were to hear it from people that you dont know you would be able to believe it and then after awhile accept that maybe you are sexy.. no one believes their families and spouses lol.. i think some times we just have to act like we believe it and as we get positive feedback in how we are presenting ourselves we believe it more and more.. kind of like having to psych yourself out.. i know when i feel ugly i just keep reminding myself of anything i have been told positive wise whether im pretty or etc and ive slowly gotten better at my own self image.. of course i may just be silly lol

you just have to find something or some way to psych yourself out..