Do you like crab legs?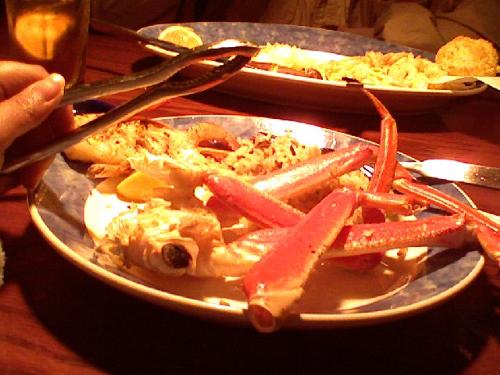 United States
6 responses

• United States
19 Jun 08
I love crab legs. Like you I only have them occasionally because of the price. I usually buy them when they are on sale at my local grocery store. It's much cheaper than buying them in a restaurant. I just steam them and melt some unsalted butter. Yummy.

• Jamaica
19 Jun 08
It is crabtime now and I am telling you the legs are delicious especially if they have alot of meat in them. Yes I love them and when you curry it and eat them with white rice you get a dish.


• United States
20 Jun 08
Hi LC!!!!!! I love crab cakes, but I have never eaten any of those crab legs. There is something about them. They look like they will fight back! lol


• India
20 Jun 08
i love them. Yummy... very tasty and really good if properly cooked. The big ones are more tasty, The only problem is breaking the hard shell.

• Philippines
20 Jun 08
i do like crabs very much they are very delicious. yes i do like crab legs too but i find them harder to shell. so sometimes i just leave them behind. but if luckily i can ask someone to shell them off for me. hahaha. i don't usually have the chance to eat larger ones, the one that has harder shells, they are not usually found here in my place. i've only seen them once in a while or occasionally. we do not have many restaurants here that serve lobsters and big crabs. although there were some, they are very expensive too. i just craving for some right now! haha.