The very first cut.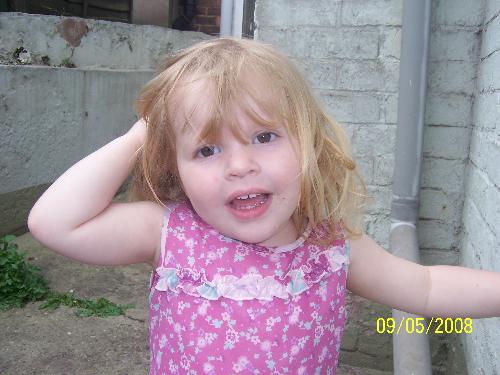 June 19, 2008 5:00pm CST
Haircut that is, not perhaps what you might think!Following on from my discussion about my first haircut in 8 years at a hairdressers, I took my daughter with me this morning. I decided that at 2 and a half it was time for her to have her first haircut. I have not had her haircut before simply because from past experience I have found that having a baby's hair cut too soon can ruin the growth of it in future years, but she is at the stage now that she needed it doing. I was dreading it, I thought she would put up such a fuss and she did when we first went in. But she stood and watched me have mine done and then when it was her turn she sat in that chair as good as gold, I was so pleased with her. She never moved and she kept looking in the mirror and going "Whit whoo" at herself! Of course she enjoyed it so much that now she wants to go and have it cut again tomorrow! OH BOY!How did your child take to their first haircut? Any bad experiences of having childrens hair cut?
8 responses

• United States
20 Jun 08
What a cutie! Kids are so adorable at that age. Glad your little one was so pleased with her hair cut. Mine is a little older than yours and still has not had her hair cut. Mine has curls and tons of them. I'm not sure if there is a real way to cut curls. It's a daily struggle just to keep the whole mass of curls from knotting up into one giant tangle daily. I am going to have to find something for that. I'm still looking. I think she just has dry hair. I'm not looking forward to our first trip to the salon for my little one. Hope it goes well for us, too!

•
20 Jun 08
I was dreading it to be honest, I think it helped that she saw me having mine cut first. Then when she saw that it did not hurt and was not scary then she was fine. If you take her to the hairdressers they will tell you what the best way is to take care of her curls.

• United States
19 Jun 08
hrmm.. the oldest was about 4-5 when i first cut her hair, and i only did it then because she refused to lemme brush it out and it was too difficult trying to pick snarls out of curls when the kid is clawing at you and screaming.. with it shorter it didnt get all tangled up and was easier to wisk a brush through it so it werent a ratsnest. the sprites i never touched.. she was 7 the first time i trimmed the edges and that was less than an 1/8 of an inch off the bottom, and she decided she wanted bangs ..;cries;.. otherwise her hair has never been cut. its down to her butt and a mass of loopy curls so when its wet down its well past her butt and she used to sit on it in the tub before she started showering by herself (the bangs finally grew back out too) and she will sit for me for the 10-20ish minutes of me picking out every last snarl every morning.

dunno what i'll do if i wind up with a boy next time.. prolly let his hair grow out too.. least till he starts school

•
20 Jun 08
Wow that is really long hair! I had to get my girls cut it had started growing really uneven and just looked straggly. She has a wave in her hair at the ends, I do too and it can just look so messy. So, am I to take it that you are going to be trying for another littlen then after all?

•
21 Jun 08
OH MY GOSH, I am so excited for you! I think that it is great news! xx


• United States
20 Jun 08
LOL, that was cool..I was smiling reading that she wants another cut by the following day...LOL! Cute and innocent baby! Anyway, I grew up that only mom was cutting my hair until I enter College. LOL, I didn't trust anybody to do it and was like a risk for me the first time I had someone cut it and not my mom...Everyone in the neighborhood will ask mom to cut their hair, she has no salon but she was just good in cutting hair. I even regret why I didn't learn it at my early age, it's hard to train myself now..LOL!

•
20 Jun 08
If I had been really good at cutting my hair, then I would have carried on cutting mine and hers. But I was only good at little bits of it and not the whole lot.

• United States
20 Jun 08
LOL, Same here...Anyway, your baby looks happy and excited here..Cute girl!

•
20 Jun 08
Its a sweet little tale there...my grandson loves the barbers and he is just three years old..but the first time that he went we thought there was going to be pandemonium seeing as its all new to him ,but no ..he sat in that chair and didnt make a muff!!He was trimmed up and till smiling,so at least its good to know that you can take threm without a fuss and palaver!

•
20 Jun 08
It is a relief to know that she is happy to go to the hairdressers!

• India
20 Jun 08
Awww! She is choo sweet gemini_rose, you are so lucky to have such a lovely daughter!

I don't have children, i hearfully wish Good Luck to that sweet lad! Happy Mylotting!


• United States
19 Jun 08
My 2 year old son has already had probably a dozen hair cuts. His hair has grown so fast that it needs to be done quit frequently, same as my other boys. I know they were all under 2 when I first got their hair cut. They did throw fits, regardless of what I did. My oldest was so bad, that I used to have to hold him down. I would sit him on my lap, with my legs over his, my arm holding his, while my husband held his head still. He was about 7 when we were finally able to allow him to sit alone to get the cut. My daughter has only ever had 2 hair cuts (that she didn't do herself, lol). Her first was when she was around 2 or 3, and she did rather well. Her second was just before this past school year. Her next will be just before next school year, maybe.

• Garden Grove, California
20 Jun 08
hi gemini rose I am glad your daughter liked getting her first hair cut. My son was just the opposite as he would start crying the moment we entered the hair salon. But after a few hair cuts he finally got used to it, then myhusband took him to his own barber and they bothgot cuts, and no more tears.