Who likes Lions?

United States
6 responses

• United States
22 Jun 08
I do!!!

Wow, that is a great picture ourdew. The one standing looks like he is wanting to start a fight with the one that is laying down.

Yes, I have taken pictures of animals while at the zoo, except in the penguin exhibit because flash photography wasn't allowed and I don't know how to turn the flash off on my camera.

Here is a picture of an Orangutan that I took back in March of this year. Not one of my favorite zoo animals (I prefer the big cats myself), but I like how this shot came out.

• United States
22 Jun 08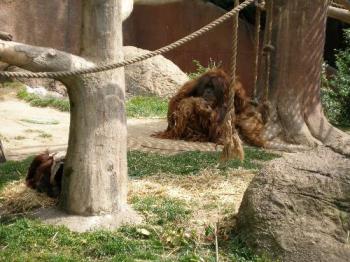 That's strange, I know my picture uploaded, yet it didn't show up in my response. So I'm trying again.

• United States
21 Jun 08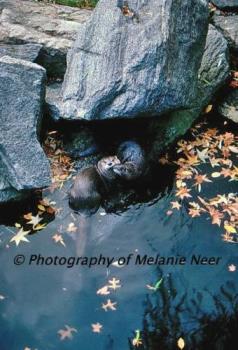 The zoo that is fairly near me, though haven't been there in awhile doesn't have animals like lions or tigers...but they had a aviary with beautiful exotic birds, seals, otters, wolves, bison...I took this picture of two otters and affectionately call it "Kissing Otters" since it does look like they are kissing..LOL

• United States
21 Jun 08
That looks like a polar bear. Did you mix up the pictures that you wanted to show? I have taken pictures at the zoo and at Bush Gardens. I like taking pictures of animals. They are fun to photograph.


• United States
21 Jun 08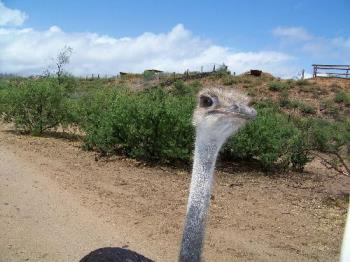 I will look at the photo when I post this email. Your answer is Yes I take photos when I go to zoos. My husband, daughter and I went to a place near Sedona AZ that is called Out of Africa. It is a wild animal park. I must have close to 100 pictures of the animals. I will post a photo of an ostrich who loved to come up to the bus we took on the tour. The we where warned not to feed the ostrich because she loved pretty shinny things and would take rings and glasses. We where in an old school bus that the windows had been taken out. My hubby and I where in one seat and my daughter was sitting in the seat in front of us. The ostrich started at the front of the bus and walked up to the back of the bus where my hubby and I where sitting. The ostrich stood and looked eye to eye to me while I took three photos of her. She was two feet away from me. Our daughter was leaning way back in her seat afraid the ostrich would peck at her. I was laughing and talking to the ostrich. Here is the photo

• United States
22 Jun 08
YOur welcome both of you. Trans if you want to join sanpfish I can get free photos. Or if you are a member of Mypoints you can get points by going through there.

• Philippines
20 Jun 08
Let me first say that that is one nice photo. I wish I could take photos as good as that too. I like lions but I haven't been to a zoo since kindergarten. But I kind of developed an interest on lions when Discovery Channel started covering stories about lion pride and how male lions fight for their own prides and all those lion stuff. I just like the idea that male lions are not so careful with their own cubs but when the times comes and a ranger tries to take over his pride, he's willing to fight and sacrifice himself for his cubs.