Why do clothes sizes change from shop to shop??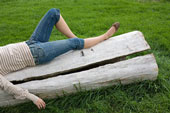 June 20, 2008 3:18pm CST
I can fit into a size 14 in one shop but in other shops it can go to a size 16 just so that they can fit over my big hips but then sag as my waist is smaller!!! Its a pain as my trousers are either too tight or baggy and I am having to pull them up constantly!! Does anyone else have this problem or am I odd???
6 responses

• Singapore
21 Jun 08
most of us do have the problem. it could be due to the cutting as well when they made the clothes. some might have small cuttings whereas others will have bigger cuttings. that's why the sizes might differ for your clothes and even for our shoes.

• United States
21 Jun 08
its crazy.. the sizes should be the same no matter what.. but then again even if it fits you dont know if it fits and looks correct on you

• United States
21 Jun 08
i have this problem all the time so i try on all pants/jeans/skirts.. shirts i can get away with but i mostly go on if i think it will fit but then again my eyes decieve me

•
21 Jun 08
Tops are not a problem, I always get a size 14. The only thing I find is that the sleeves can be a bit tight around my arms or a bit short in length but other than that I have no complaints!!! This does make me wonder what the whole fuss is about wearing clothes!!! lol

• South Africa
20 Jun 08
Yes i have the same problem, from shop to shop the sizes are different, and not only clothes but also pants and socks! It makes ridiculous because it makes me embarrasing when i say i can wear a size 10 and the saleslady look at me and like "are you trying to burst this piece or what?" and she will give me a bigger one and say "why dont you try on the bigger one? I am sure it will fit better!"

•
21 Jun 08
The confusing things is that my underwear is size 12-14 and they fit comfortably!! Its crazy how sizes can be so different, i make sure i try trousers on but always find after being worn and washed the shape changes slightly and then they are either baggy or too tight, I make sure i buy 16s though which makes me feel huge but I know its just so they can fit over my wide hips!!! Do you ever get frustrated with salesladies commenting on what size you should buy?? I would say somethign back to her!! Do you think they probably natter in the back and discuss customers and what they bought??

• United States
20 Jun 08
I think it's the company making the clothes. A pair of jeans from several different companies can have different size 12 jeans--some are too big, some are too small--it's all based on the company making them. There's this one store whose jeans sizes are in the 20's but they're equivalent to regular sizes you just have to try on a few to see which one you are. For example, I'm usually a size 5 in jeans, but at this store the size is 27. It's really weird. At first I thought it was the length of the jeans but it's not, I think it's the size of your waist or hips or something.

•
20 Jun 08
I dont mean jeans, im on about trousers/pants!!! Also why do trousers never have pockets in them???

•
22 Jun 08
I watched a programme discussing the discrepencies in sizing of womens clothes in the UK. It interested me as I have trousers/ jeans varying in size 6 to 12. I would describe myself as a 8 but still would never buy without trying on. The waist to hips ratio is never right either. I end up getting a belt to keep my jeans up!

•
20 Jun 08
No you are not odd, it is true that the clothes sizes in shops vary in their sizes. I have this problem also, I am a size 8 - 10 and the problems I have with clothes can be very frustrating and I have nothing in my wardrobe that fits me properly they are all massive. The named clothes are the worst, jeans especially and most often than not they can be about 2 sizes smaller than what they say, so if you are a size 10 you would need a 12 - 14 to get them to fit right. I stopped buying them because of it.