do you have eye floaters?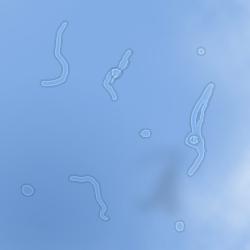 Singapore
June 21, 2008 8:10am CST
i never really paid attention to mine until i asked a friend if he had them and was surprised when he said no! i always kind of thought that everyone had them. anyway, after some research over the internet i have discovered that these so called floaters are called vitreous floaters. these are squiggly translucent fibers that just float around in your eyes. they don't really cause any harm except that they can be a bit distracting when looking at plain colored objects or even the computer screen! sigh. do you have them too? btw, i'm attaching a photo of how these floaters look when viewing a plain blue background.
6 responses

•
21 Jun 08
I get floaters in my vision but not liek the ones in your picture. I usually get a light dot that travels over my vision but then goes away very quickly. I suffer from migraines regular tho so i thort it was to do with that.... bit i do get visual floaters most days.

• United States
23 Jun 08
It's fuuny, I just looked up the same thing on the web the other day. I see a dot that moves around every once in awhile. Guess it comes from age. I'm not worried about it right now anyway.

• United States
22 Jun 08
Oh wow, that's weird that there is a picture of what they look like. That's when I see them - when I'm looking at the sky like on the picture. When I try to focus on one to see what it looks like, it moves all the time like it's falling downward. So I can never actually focus on one. I just see them below wherever I'm looking.

• Philippines
18 Aug 08
are you sure is vitreous floater? well i got some idea about medical things, i suggest you consult to ophthalmologist, because this thing might be a condition called "retinal detachment" in which you may see some floater on your visual field. or probably a cataract, its important to consult first before we seek on our own treatment.....confirmation diagnosis is important to assure perfect recovery or prognosis.... stay healthy my friend and keep safe...

• United States
21 Jun 08
They're inevitable. Everyone has them, even if they don't notice them. Like you said, computer screens, solid colored objects, and, for me, microscopes! all make them more noticeable. If you've noticed an increase in floaters, though, you should go immediately to an eye doctor (not the ones that just do the exams for glasses) because it can be a symptom of several different conditions that need immediate treatment.