Has anyone ever been pai from treasure trooper

Canada
June 21, 2008 7:39pm CST
when i first stsrtedmakingmoney online i came across treasuretrooper i thought this was going to be good seeing so many people getting over 100 dollars a month from checks in the mail. but there weren many offers for where i lived and i gave up on the site. has anyone ever been paid really good more than onemonth in a row from them? or is it just a month of luck?
4 responses

• United States
22 Jun 08
I haven't personally been paid by them, but i've heard others have. I made $9.00 there so far, and i'm not too far from payout but everything like stopped approving after I reached that & i've been trying and trying with no avail. It's been a bit since i've been around there, maybe i'll try some more! but uuhh. I've heard from lots of people & seen payment proofs that it does pay.

• United States
22 Jun 08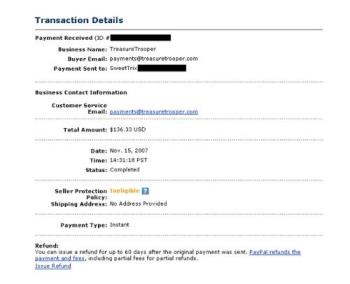 I think it depends on your country of residence, I only do daily surveys or a couple offers here or there but I have been paid over $100 from them. It may be luck but there it can also be how much time and effort you put into it. It probably is harder for you to earn since you are from Canada and don't have as many offers available to you compared To US residents. A picture of my payment proof is attached. •¤•Good Luck•¤•

• United States
22 Jun 08
Yes I have been paid many times from Treasure Trooper. It's a good program. They have always been prompt with their payments. Right now I don't do many offers but still get paid monthly from my referrals. Referrals can make you money without you doing offers and you still get paid.

• United States
22 Jun 08
I have been paid once by them. But I only do the survey sites I don't do too much offers anymore. But it takes a long time to earn the way I'm doing it because sometimes I don't qualify for a survey but at least I know that they pay and I just keep taking surveys until I qualify and make some dough.