Ghost Hunting - Orbtastic!

Dayton, Ohio
June 23, 2008 12:09pm CST
I am an amateur ghost hunter. About once a month, a little group and I go out to various places, loaded down with camera's, flash lights, EMF detectors (Ok, we don't have one of those yet, but we will), walking around and taking hundreds of pics. A lot of times we get orb pics, which can be dust, or bugs, but some claim they can be other things (spirit photos). what is you opinion of orb pics?Submitted for your approval is an orb pic I have taken. I will say that it has been gimped slightly to increase brightness and contrast to bring out what is in the background. (I hope this works, it's my frist time adding a pic to a post.)
3 responses

• United States
30 Jun 08
My group is called Paranormal Knights, based in Central Ohio. We will be happy to offer any advice we can. -Generally orbs are not interesting if they are not in motion. Unexplained motion (UXM) is much better than orbs. -Camera flashes bounce off everything, and if the angle is correct, the result is a near perfect sphere of various size on the image. If you see orbs with the naked eye, then you may have something. -Cross-referrencing is important too. EMF readings, ghost stories and emotional "readings" in the exact same place as a photo orb make the orb instantly more interesting. Document EVERYTHING. -Good Luck


• United States
21 Dec 08
Any serious researcher will tell you that 95% of all orbs caught on film can be cast aside as a false positive. Dust, bugs, moisture, and precipitation are just a few common causes of "orb pictures" But the fact is that before digital cameras were invented orb photos were virtually non existent. Now why would that be? Do digital cameras have magic powers?.... No the technology simply allows for a quicker picture to be taken which enables us to catch airborn debree in mid flight. orbs are debunked.

•
29 Jun 08
you.Hello DarkDancer, How exciting, not sure if its is a spirit orbs, but well done to you I am a beleiver in spirit because I am a spiritualist medium but be vry careful with what you are doing, you don't want uwanted spirit back home with. Regards Tamarafireheart

• Philippines
25 Jun 08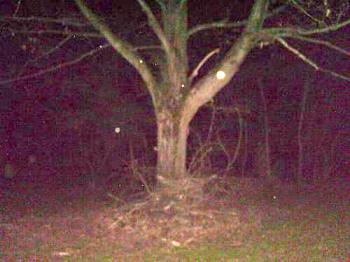 Just curious my friend, according to wiki there is an explanation of the orb effects caught by lenses of digital cameras. How would you differentiate this from paranormal? I took the liberty of enhancing you image cause I can see a anything. hope you don't mind.