can u eat these babies?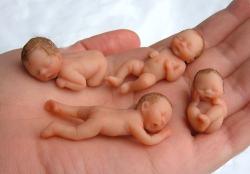 India
7 responses

• Australia
3 Nov 06
This is a hoax, http://www.snopes.com/photos/arts/marzipan.asp the items pictured above are not made of marzipan, nor are they edible. They're 2- to 5-inch sculptures created by artist Camille Allen (including some entries from her Shell Baby line of miniatures), and they're made from Prosculpt polymer clay and mohair. Definitely not the kind of thing most of us would find palatable.

• India
4 Nov 06
no dear they r very much edible material n made of marzipan....not clay or anything else.

• Singapore
3 Nov 06
..... Oh my god ..... There are so many wonders things that i dont know in the world huh ... I wont eat it yucks -_-

• India
3 Nov 06
lol...i think i can imagine the expression on ur face on the idea of eating it.



• United States
3 Nov 06
wow! haha I dont know, but the are very real looking!