Pig in boots!!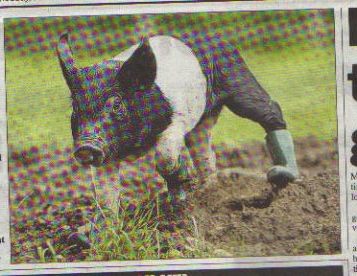 June 24, 2008 5:25am CST
A pig named Cinderella (not me!! lol) isnt happy as a pig in much. She hates the stuff so farmer Andre Keeble of Thirsk, North Yorkshire has kitted her out with her own set of wellies. He said 'We've never had a pig that wouldnt go in mud. Its just odd.' She looks real sweet in her little wellies. i have added a picture but its not very good as I have scanned it from the newspaper!!!
2 responses


•
24 Jun 08
Oh that's too adorable! Thank you for taking the time to scan that in for us! I adore pigs. I hope to have a pet pig one day. I'm going to have to convince my partner to give up bacon first though!