How do you boil an egg?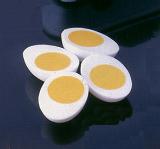 United States
June 24, 2008 11:17am CST
Yes thats my question of the day. I want to know how you boil an egg. Sounds like a dumb question right? Here are my questions since every one does it different I don't know the right way. 1. Do you put the egg in water that is already boiling? 2. Do you put the egg in the pot before it boils? 3. Then what do you turn the heat down? To what? 4. How long do you keep them in the pot? 5. Do you put oil in the pot for easier peeling? Please tell me from start to finish how you boil an egg! Thank you in advance!!!
1 response

• Philippines
24 Jun 08
I choose No. 2 as my answer. and let it on a medium fire for twenty minutes. After which, I placed the egg in a bowl with cold water for easy peeling.