describe your pet

Romania
June 24, 2008 3:38pm CST
i'm curious...what kind of pets do you have? do you play with them? do you enjoy their company? i don't have any pets unfortunatly. but when i was little i had a cat. i can't remember her name ( i was really little) but i know i liked to play with her all day long.
2 responses

• United States
24 Jun 08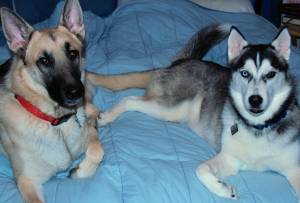 The current count at my house is eight. There are three rabbits: Magellan (yellow Dutch), Willie (grey English Spot) and Bear (mixed breed). Then there are four dogs: Masha (Siberian Husky), Vali (German Shepherd Dog), Jared (mutt who was originally just supposed to be a foster!) and Donovan (we think he's a Manchester Terrier, but not really sure). Finally is one elderly white rat named Nicholai who has outlived all of our other rats and now finds himself alone, but is too tempermental to be introduced to any companions. I spend almost all of my waking hours in the company of my pets and I wouldn't trade them for the world. They are so much more than just animals who live in my house -- they really are my family!

• Romania
25 Jun 08
you have a lot of pets. i'm glad that you love them this much

•
25 Jun 08
I have a cat, a gecko, and a fish. My little brother has even more pets. Anywho I love to watch my gecko. she is interesting, and unlike a lot of lepard geckos. My cat is awesome her name is Neon and she follows me around the house... The fish I actually talk to sometimes when I am stressed because She won't respond.... I call her flower she is actually really pretty for a female beta I think I will buy her a male but I have to study that first...