Which is your favorite fruit?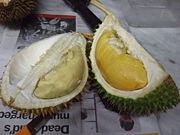 June 25, 2008 10:45am CST
MY favorite fruit is DURIAN. It is called the king of fruits. The queen of fruits is Mongoosteen. I like it too, but not as much as durian.
10 responses

• Philippines
25 Jun 08

my favorite fruit is mango and rambutan

• United States
28 Jun 08
My favorite is strawberries and bananas

• Indonesia
26 Jun 08
I like durian, too. I also like mango, jackfruit, orange, and banana. As a matter of fact, I like almost all fruits. But, durian is the best. Nothing can beat durian. It is hate or love situation with durian. People loves it or hates it, no one in the middle. I don't know what is mangoosteen looks like. I think I know it but I just can't recall what it is. Can you tell me more about mangosteen?

• Indonesia
26 Jun 08
I like durian very much, especially durian montong. it is a kind of durian that so sweet. n december i always visit my village to get durian.

• Malaysia
25 Jun 08
i like durians too but i always need to suffer for many days after eating eat, because i always have sore throat after that...T_T

• Malaysia
25 Jun 08
i love mangoes..it is because i had been eating mangoes since i was a kid..back then, i have a mango tree beside my house..and now beside my new home, also a mango tree..lol.. i used to eat durian but now i can't eat them..lol..i'll feel dizzy after eating them..but many people say that durians taste great..sadly i can't remember the taste of durian..:D

• India
25 Jun 08
My favorite fruit is mango , I like mangoes very much.

•
25 Jun 08
my fave fruit has to be pears, i dont think you can beat a nice ripe pear :)


• United States
25 Jun 08
I like bananas the best. I don't like alot of fruit but bananas you can do alot of things with you can eat them plain, cover them with chocolate and freeze them put them in a bowl of cereal eat them with peanut butter as a sanwhich etc.