make electricity from potatoes!!!!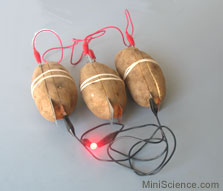 India
June 26, 2008 4:26am CST
well believe it.potatoes contain many water soluble chemicles which has the ability to generate electricity.really a miracle.view the photo if you still do not believe it.
4 responses

• Malaysia
26 Jun 08
You can also generate electricity using lemons and other fruits ;) nature is interesting and full of amazing potentials. Unfortunately, we will need to plant a whole lot of potatoes to get even a small amount power. Still it demonstrates many possibilities using nature.

• Belgium
27 Jun 08
indeed, just what i had to say about it :) . If you learn more about the history of electricity you wouldn't be so surprised about the potatoes ability. But after all: you can't know everything in this world, so it's nice that people can be surprised by things that for others are so normal.

• India
26 Jun 08
yes i know that we can make electricity from potatoes i studied it somewhere that i don't remember but i don't think that it can deliver us much power. anyways thanks for making me remember that potatoes can be used.


• India
26 Jun 08
It really is a great news. Now in the wrld we are facing so many problems making electricity & If we could make electricity from potato in bulk quantity it is good. There is a bad side also. No one will be able to eat potato because its price will go up like OiL.