Mannequin Envy

Philippines
June 26, 2008 8:36am CST
Ever had mannequin envy? Did you ever buy something because it looked good on a mannequin and regretted it later because it didn't suit you after all?
4 responses

• Canada
10 Oct 11
No I haven't, but I'm thinking that this is a good concept! I have an online store wherein I am thinking of getting a mannequin to display my products properly. Currently I take pictues of my products laying flat, and I think they would show much better if they are worn by mannequins. I bet my potential clients would have mannequin-envy!

• Philippines
29 Jul 12
Yes, that would be a good idea.

Mannequins in displayed clothes somehow make it easier for the shoppers to imagine or visualize themselves in the clothes worn by them.


• Philippines
16 Oct 09
Me too. A shopaholic like me just needs to be very realistic about themselves. :-)

• Philippines
21 Jul 09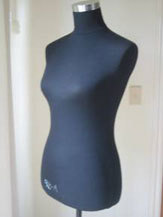 I think anything would probably look good on mannequins because they have perfect shapes, I did buy a dress once, it looked so good on display. But I never did get to use it because I am not really a party goer and there never was an occasion that I felt justified to wear that short backless cocktail dress. I ended up giving it away with the tag still attached to it. I guess you can say, it didn't suit my personality hehehe


• Philippines
16 Oct 09
I agree - they do look good on mannequins because of their perfect curves. It just comes down to discipline. Either you don't look at the mannequin or you just really convince yourself it won't look good on you after all. :-) I have wasted a lot of money before on that premise and the skirt is just staying in the closet for a whole year.

• United States
26 Jun 08
Yes I have done this alot. But we cant all be perfect like the mannequins although I would love to be sometimes.

• Philippines
26 Jun 08
I am so trying to control myself. To discipline myself, I only think of my ugly cellulite and it works. I usually walk away in a few seconds. Haha.