Have you dreamed of having a yacht someday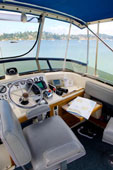 Philippines
5 responses

• India
28 Jun 08
very good idea to by a yacht and travel around the world i never got the idea but by seeing your i got even better idea why not sail the whole world with your girlfriend so romantic it will be...

• India
28 Jun 08
i too don't have a girl friend dude but just thinking that it will be romantic ... you are in much better position as you have a wife. good luck

• Indonesia
28 Jun 08
Hi there Halal-oliverdt,Oh don't want to hurt you, but i think i'

m afraid to catch sea sick if i'm above the sea longtime.



• Tripoli, Libya
28 Jun 08
Oh yes, there is a 30ft catalina here in town that I would like to buy. I dont know how to sail yet but I thought I would live on it until I do learn. Then I want to sail it home to Hilo Hawaii where I was born. I think then I would feel my life complete.

• Philippines
28 Jun 08
good day.. I dream of owning a boat someday. I want to sail with my wife and enjoy the sea. It's like my goal in my later years.

• Singapore
28 Jun 08
A nice yacht would be very nice for me. I can imagine myself sailing on the high seas with nothing to do except to relax and enjoy being close to nature. Unfortunately though I am far, far away removed from the people who can afford yachts and as appealing as the life of leisure on a yacht sounds, I also suspect that I don't have the stomach to do all the hard work associated with being a yacht owner. So, the huge luxury yacht I've dreamt of for many years remains just that, while I continue to build other easier and more attainable dreams that I've had. Was out with a friend last night. He said that after he saw some pole dancing on a private jet in the movie, Iron Man, he's decided that he wants to become a multi-billionaire by the time he's 50, which is only a year away. Private jets are also another possible dream. One of the dreams that I've had was to live in a private bus - a big huge grey hound type of bus that would be retrofitted with the latest living and office facilities that would allow me to be constantly on the move.