Do You Like Clowns?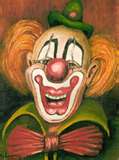 United States
June 28, 2008 10:04pm CST
My mom loves clowns! She says they make her smile. She has three bedrooms in her home and an office and the office is done up in clowns. However, one bedroom is made up of teddy bears and panda bears and the other bedroom is of her dolls. She didn't do her bedroom up in anything however everything matches and looks really nice. Anyway, she went to show her neighbors what she's done to each room and the one girl wouldn't go into the office because she's scared to death of clowns!! Now I've heard about a person being afraid of clowns but I've never heard the reason why. So my question to you is, do you like clowns? If you do, tell me why and if you don't, tell me why not....
10 responses

• United States
30 Jun 08
I am indifferent towards clowns. I do not hate them, nor do I like them. I have never really been interested in clowns. I thought them to be pointless. They never really made me laugh. It takes a lot to really make me laugh.

• United States
30 Jun 08
So you don't have much of a sense of humor? Well that's ok, you're you and that's fine, not a thing wrong with that. I wouldn't want to be that way because life is too short to take seriously but then again, it's a case of to each his own, ya know?

• United States
30 Jun 08
Well, now, I have a sense of humor, it is just twisted. I laugh at things that people most times would not. I do my best not to take things too seriously. It is just that I have lost a lot in my life and I have been through so much Hell, that things are different for me than they are for other people.

• United Kingdom
29 Jun 08
Ok I have to be honest no I am not to keen on them I don't know what it is but they trigger fear in me I don't know if it is the faces or the because of the scary Films they have shown with Clowns I really don't know but I do not like them

• United States
29 Jun 08
I'm glad you're honest gabs, it's the only way to be!! And I'm not offended in the least either for everyone has a fear of something and yours is clowns and I can understand why now.

• United States
29 Jun 08
Gabs I agree with you a 100%. They give me the creeps.

• United States
29 Jun 08
I have always liked clowns too, not to collect them though. I have heard of people big and little being afraid of clowns. Is starts when they are little kids. If you think about it and think like a little one, some clowns are scary looking. Plus after the movie IT even more people are afraid of clowns. My mom has a Snoopy and Peanuts room, she has been a collector for years. She has 7 Christmas trees in the basement filled with peanuts figures. She has everything imaginable in Snoopy. I think she has gone overboard with it.

• United States
29 Jun 08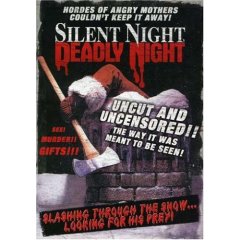 7 Christmas trees?? Holy Moly!! Wow!! Yeah I'd say that's a bit overboard but she's enjoying it so let her be. I do feel for you though for when the time goes and she's no longer, you'll have all that to sort through. I can understand why people are scared of clowns now that it's been explained to me for I saw a christmas horror film one year called "Silent Night, Deadly Night" which made me fear santa claus something awful!! I couldn't wait for christmas to be over that year for every time I saw a santa I'd jump out of my skin. Never ever ever again will I see another horror movie. That one did me in good! I didn't want to see it in the first place by my dear ole boyfriend at the time talked me into it and boy did I live to regret it to this day.

• United States
29 Jun 08
Hehe, Holy Moly is right. I was down in her basement with her, I looked around and told her she was sentenced to life. She is not allowed to die and leave all that for me to take care of. All the ornaments each have their own box. They are all expensive too. The basement is decorated for Christmas year round, its too much work to take down and put back up. She also has a bunch of other snoopy things throughout the house. We always know what we can get her for gifts, she likes anything Snoopy.

• United States
28 Aug 08
I don't mind them, but my son freaks. He just says they are scary and wants nothing to do with them.

• Canada
8 Jul 08
I am not a big fan of clowns, but I am not scared of them either. I think there is an actual medical condition for people wo are afraid of clowns. I can't remember what it is called, but it does exist. There was an episode of Frasier that talked about this.

• United States
8 Jul 08
I'm not a big fan of clowns either but my mom sure is. She said she's always loved them from a child on up. They make her laugh with their antics and face paint. I don't dislike them either, like you, I'm nuetral.

• Garden Grove, California
30 Jun 08
I dont mind clowns, they do make me smile and laughm but I am not gung ho on them either. I love my beanie babies and have a large collection of them in my bedroom.I don't understand why some people are really afraid of clowns unless they have seen 'some odd movie that had an evil clown in it or something of that nature.

• United States
30 Jun 08
I'm hearing a lot about the movie called "IT" which I've never seen since it's a horror movie. Not my cup of tea but I can understand people being afraid of them when a scary movie containing one.

• United States
29 Jun 08
I do not like clowns. I think they are unnatural and therefore spooky looking.

• United States
30 Jun 08
I think they were meant to make people laugh not be scared of them but they obviously have the opposite effect to a lot of people. Some have told me that it was because of the horror movie called "IT". I've never seen it for I can't stand horror films.

•
29 Jun 08
No I do not like clowns, reason for this being that I watched a film, it was a Stephen King film called "It". Now this film had a clown in it, and watching that film ended the previous love and enjoyment I had found in clowns!

• United States
29 Jun 08
I completely understand for one year I went with my boyfriend (
@ss
) to see a Christmas horror movie because of an agreement that we had made. He knew I hated horror movies but wanted to see another movie instead so I agreed to see this movie called "Silent Night, Deadly Night" and it was about a boy saw his parents get killed by santa, he and his brother grew up frightened by santa but one got a job at the toy store and took over the job of santa and then went on a killing spree. It made me so mad that I left the theater without seeing the movie I wanted to see AND it ruined my whole christmas that year because I had an awful fear of people dressed up as santa. I couldn't go to the mall out of fear I'd run into one and if I did go, I'd jump out of my skin if one were near by. Thank God it only affected me for that one year. So yes I completely understand.

• Australia
29 Jun 08
I'm afraid I'm really scared of clowns, CatsandDogs. I don't know why - maybe it's because I feel they are hiding something, but I didn't like them at circuses when I was a small child, either. I'm also scared of ventriloquists' dummies - ugh! I don't like going into rooms with lots of collector dolls staring at me, either. All those things are a bit creepy.

• United States
29 Jun 08
I find it interesting. Trust me, I'm not offended in the least for everyone has their own reasons for feeling the way they do. My mom has always loved clowns and I guess from seeing her smile at them from a child on up made me not really like them but I don't dislike them either. I like some dolls but not a lot of them. Mom doesn't have a whole lot but more than I have.


• United States
29 Jun 08
That's interesting and I take no offense what so ever because everyone has their own reasons what ever they may be. I just wondered why one would hate them since I don't really care for them but I don't hate them either. Maybe it's because mom always loved them and seeing her smile at them made me comfortable with them. Or maybe I'm just plain weird. LMBO!!