Help in Maintaining Aquariums/Fishes...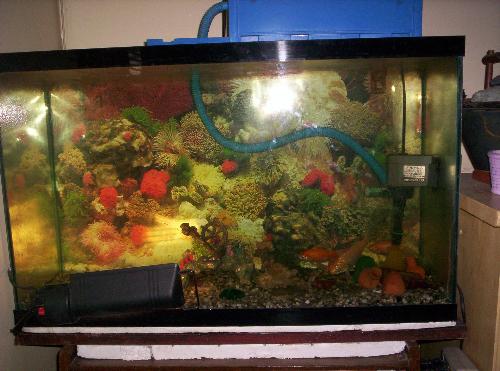 Canada
June 29, 2008 1:43pm CST
I love to buy fishes, just the simple ones that are colored Gold. It does not matter to me if it is just cost 50 cents or a dollar as long as it has a golden color. It relaxes me to view the aquarium and see how the fishes swim over and under the rocks or what have you adorning the fish tank. The problem starts when I have to clean the aquarium if the water has become greenish and you have a hard time seeing the fishes. Sometimes the fish that I buy don't even last a month. I try to feed them regularly and they have airators so I am not sure why they die. Can anyone give me some dos and donts with this hobby of mine?Just Asking, SFC
4 responses

• United States
10 Jul 08
The greenish water color means suspended algae and one way to get rid of it is to first clean the gravel by syphoning the gravel during a 25 to 30% water change (this will get rid of lots of food that the algae needs to grow. Next comes complete darkness for 3 days (algae needs light to live) and higher plants can take 3 days darkness0. If you do not already have them then get plenty of true and healthy aquatic plants (they will compete with he algae for the available food and usually will out compete them. This does not mean one or two small plants but rather enough so that you cannot see the back of the tank through the front. The plants will also help to filter the water but you still need to do regular partial water changes. I recommend a 20 to 30% water change each week with water that has the chlorine and chloramine removed from it.

• Canada
30 Jun 08
okay could be bacteria, and you have a good filtration system? could be temperature of the water, try this link: http://www.petlibrary.com/goldfish/fishcare.htm

•
29 Jun 08
Hi Muelitz-I don't have an aquarium but do have a pond-although it started out as a nice clean pond but my ex-hubby didn't clean it out so now I have what I call my 'nature pond where I have frogs newts and toads there and every year the frogs come back and mate there as frogs always mate where they were either born or live-I find it really relaxing and peaceful to watch-although aquariums and fish are also a therapuetic way of relaxing if you have them in your house and like you I would hate to have clean it out because of the slime etc-your friend littleowl

• Canada
29 Jun 08
I would have a hard time seeing them in a big colourful aquarium. I know it seems boring, but when I had fish, I'd just maintain them in a clear bowl, with a rock or two at the ottom. It made it easier for me to see them, when I needed to clean the bowl out.