Suicide is the only way...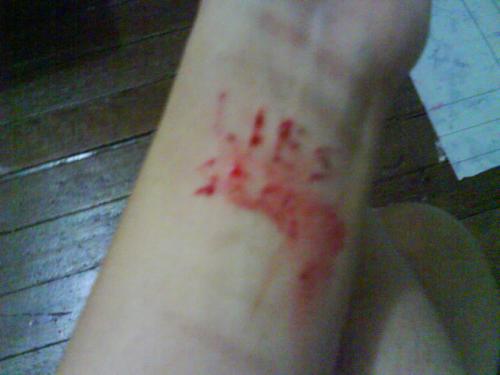 Philippines
June 30, 2008 5:10am CST
Sometimes, people get fed up with life and the only thing left then to think is to escape it... by means of suicide. Everyone would experience this down time of their lives and they become "emo". Well, if any1 here doesn't pass through this period in life? All I can say is lucky you... Well there are many people who goes through this down time period of life yet still has the fear of committing suicide. That's better then i think. But to think they still do hurt themselves to cover up emotional pain by making physical pain. I went through this stage when i fell in love with someone who used me and didn't really love me. I still love that person til now but i'm starting to accept that my ex doesn't really need me for him to be happy. Well, maybe because i'm far from him now. I just don't know how i'll react and how my heart would beat if i see that person again. I'm afraid to pass this period in life again. I easily get tired, i become so weak and emotional not thinking of the other people around me who loves me. Here are some pix of me above... those are the pix that time that will remind me how crazy i was and how weak i was. I don't want to experience it anymore. I remember that i felt that the world is closing on me, making me feel so alone. It really hurt me that pain. All those pain and suffering. Have you ever had this feelings? HAve you been an emo? Well, to those of you in this time of need. just think open-mindedly. If there's no one around for you. I can be here for you...
4 responses

•
1 Jul 08
Hi Kharen I have read a few of your posts and am so sorry to hear that you are feeling so low. You are a beautiful young girl with your whole life ahead of you. Please don't let life get you down so early on, you have so much still to do. Go and see a doctor, get some medication to help you get through this time and before you know it you will be back on your feet again and enjoying life. Spend lots of time with your friends, let them help you through this hard time. From your other post it doesn't sound as if your mother is there for you, what about your father, siblings? Do you have a really close friend that you could confide in? Be strong honey - life IS good. Just get through this period and you will be a stronger person for it. All the best Violetdreams

• United States
30 Jun 08
I have felt this way in the past. I have done some crazy things become I didn't want to feel the pain that I had inside of me. It was so difficult to keep living with my family and I not being very close. I put it aside because I have made so many friends that stay by my side. I consider them to be family. I'm not sure where I would be without them. We help each other in those times of need. Even when I was far away, I continued to stay in contact if they ever needed me. That is one of my reasons for being happy that they invented the internet. It truly helps me to stay in touch with all my friends. Especially since we are all getting older and trying to move ahead in life, that we get a bit too busy to always call and talk. When we can we do call of course. So I forget my past of wanting to leave, because here I have great friends that I just couldn't imagine leaving. I'm glad to know that since you've been through it you're willing to reach out and help others. And if you ever go back to those days, also know that I'm always available to talk.

• United States
8 Jul 08
everyone think that way one point in there life.but just think that down the road there will be something to look forward to but if you kill your self you wont get that chnce toget to see what it is.

• United States
30 Jun 08
If you ever think about killing yourself, you need to go see a doctor! They can help you and give you medicine that will make you happy again. Life is not worth throwing away over problems you have today. Ten years from now you will think it was a silly reason to want to throw your life away.