What is your favorite painting by a world renowned artist?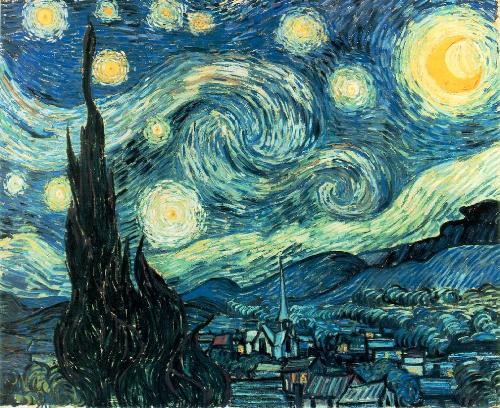 Philippines
June 30, 2008 5:54am CST
Honestly I myself can't say which among the many paintings I like is my most favorite. Van Gogh's Starry Night is wonderful but I also love paintings by Picasso and Renoir. I also love paintings by artist from the Philippines, Africa and the aborigines in Australia. Starry Night is one of my favorites. Whose painting and what painting is your favorite?
6 responses

• Belgium
30 Jun 08
i like the surrealistic paintings of margritte. the way he makes you think about al the "normal" things that are surrounding you. But also the paintings of van gogh are beautiful. They also have something surrealistic, but in an other way then margritte. More beautiful to hang at your wall actually.

• United States
11 Aug 08
Two of my favorite artists are Salvador Dali and Frida Kahlo. For fantasy art, I love Boris Vallejo and Louis Royo. They do beautiful human form.

• India
10 Jul 08
Van Gogh's Starry Night is one of my favorites too! Actually I love Van Gogh's work, any artwork from Van Gogh is my favorite. I also like Leo Leonardo Da Vinchi's work. Amongst Indian artists, I love Raja Ravi Varma. If you haven't heard of him, check this - http://www.cyberkerala.com/rajaravivarma/ Thanks.

• United States
3 Jul 08
My favorite painting is 'The Persistance of Memory' by Salvador Dali.

•
3 Jul 08
I have thought about that with this occasion, and I have to admit that Guernica of Picasso is absolutely the best painting i've ever seen. It was a tough decision since I made up my mind several times thinking of works by Picasso, Dali, Van Gogh and some other artists. Absolutely amazing both the physical and the metaphysical "dimensions" of Guernica!

• Philippines
3 Jul 08
Reminds me of a Don McLean song, Vincent. =)