Quentin's Best

United States
June 30, 2008 1:11pm CST
I have been debating lately off and on with my wife. I feel that this is his mastepiece. Everything that happens in the movie, scene by scene is just classic. My wife doesn't like the movie and thinks that Reservoir Dogs was far better. CENSUS! Which one was it for you?
3 responses

• United States
1 Jul 08
Reservoir dogs was good but it only has one storyline and there are some funny lines but Pulp Fiction is a good mixture of comedy, action and drama. There are cameos in this film that are better than some lead roles in other films.

• United States
4 Jul 08
Yeah, I agree. This movie was well acted on everyone's part. I enjoyed the mix of dialog, comedy, and action. The entire skit at Bonnie's house is classic. Everything from the coffee to Mr. Wolf just trips me out. I never get tired of watching this movie.

•
30 Jun 08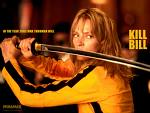 Although I like Reservoir Dogs, it doesn't come close too Pulp Fiction in my humble opinion. The storyline & dialog are amazing, every time I watch it I spot something new. But I am also very partial to Kill Bill 1 & 2 also, although a bit more tongue in cheek I thoroughly enjoyed them.

• United States
4 Jul 08
The Kill Bill's were a great little one-two punch for Tarantino fans. I thought they got a little dry during some parts and predictable. I loved the plots, it just soe really dry parts to me though. That is why I love Pulp Fiction so much. The action jus keeps going from scene to scene. It has a real steady flow to it.

• United States
25 Mar 13
Oh this is terrible, it's like asking someone to pick out which child they like better, lol. I loved both of these films. Quentin is a genius, he is really a genius. I have to catch up with all of his work, I really have to see Django Unchained. I will actually have a movie day, when I do nothing but catch up on these films. I can't tell you which one is better, I really like them both, lol.