chocolate fondue goes best with what

Philippines
5 responses

• United States
7 Jul 08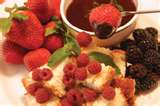 Pound cake or angel food cake! Strawberries, raspberries, blackberries, fresh pineapple... mmmm. Oh.. and marshmellows.

• United States
6 Jul 08
I like bananas dipped in chocolate the best. I don't know why, but something about them is fantastic. [Of course, most everything involving chocolate is.] :D


• United States
30 Jun 08
I've only had chocolate fondue a few times and it's been a very long time since I've had it, but strawberries are always good with chocolate, and banana too. I like chocolate covered pretzels, so I'm sure I would like them dipped in fondue as well.

• United States
30 Jun 08
Yes, those are my three favorite things, strawberries, cheese and then banana. I also like to dip pretzels in the chocolate.