Asian Exotic Food

Philippines
July 1, 2008 8:36pm CST
Have you eaten edible frogs? I have spent my childhood in the province. Between Cotabato and Davao we lived at the Firestone Executive Compound. Its where I spent my pre-adulescent stage. Our environment over there has a good vegetation. I remember having played in the riceland mud. My older sister and I enjoyed catching native edible frog with playmates. Some of whom that we played with were Expat's Children, the son of the Agro Division VP of Firestone named Mark. The frogs that we caught were kept in a used container from the rubber processing factory. It wasn't a big deal wether it was such a mess. For sure we enjoyed and we were able to catch around 2 kilos of frogs. Without us knowing, frogs were for eats hahahah. My grandfather who was on vacation to our housing unit at that time prepared us food. When he realized that we brought home our caught frogs. Jarraaannnnnn he cleaned the frogs. Cut each of frogs heads off, removed frogs fingers, abdomen and washed it off with salty luke warm water very well. Next step he sprinkled on ground pepper and fried it crisp. At first I did not feel like eating. It looked awefully yucky but when I learned how to eat frog I can atleast compare taste with chicken.
4 responses

• Philippines
19 Jul 08
i think it is a lot tastier than chicken..yep i do eat frogs but someone needs to debone the frog first..i mean i dont want to see the whole frog and eat it that way...someone needs to debone it in a way that i dont even sure if that is still frog that i am supposed to to eat...hehehe


• Philippines
21 Jul 08
true enough that is whay i need someone to debone it for me and i will surely not ask what part am i eating hehehe...

• Davao, Philippines
2 Jul 08
well yeah that was when im still pregnant of my second daughter long time ago in my hometown ..its a delicacies on some farmer(rice fields)and my hubby like to try and taste it and yeah it taste like a chicken..btw we had bough it from the farmer itself and its already clean ready for cooking,,,just to be safe that it was properly cleaned and washed before cooking..

• Philippines
3 Jul 08
Taste good isn't it? Another delicacy that Capampangans eat is Kamaru. In Ilocano they call it "ararawan" in Cebuano they call it "Timos". Capampangan's are known exotic eater. They eat Locusts too. I heard that they ventured to eat Coconut Beatle's. I think it has an aprodisea effect, but I still don't get the proof for that yet.

• Singapore
19 Jul 08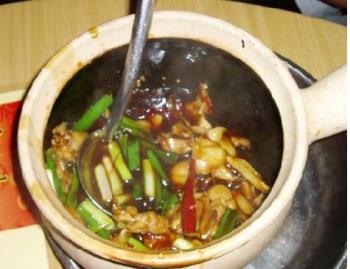 Asians are good at coming up with exotic food. In Singapore, the most exotic food I eat was frogs' legs porridge. Frogs' legs taste a little like chicken except that it's more tender.

• Philippines
19 Jul 08
It seems in Asian cooking, lots of ginger makes a lot of difference. The smell of stir-fry ginger also has great aromatherapheutics. It also makes exotic and common foods taste very good. Health-wise, together with garlic, pepper and papaya, ginger makes a very healthy soup. I came accross a website that claims these four are the best of herbals available in many Asian countries. Tinola, anyone? :) Any views, comments?

• Philippines
3 Jul 08
Pinoys love to eat "balut". if i'm right it can be described as a delicacy: prehatched, steamed, duck egg. It's interesting to find balut in Philippines, Cambodia, Indonesia? and other Asian contries. Anywhere I am, rice, balut with patis makes me feel I am home :)

• Philippines
19 Jul 08
i love balut a lot...the most balut i ate in one sittting would be 3 coz they wont allow me to have more than that...health issue hehehe...but i really love it...whenever i see it in a fear factor episode i envy those peeps who coudl eat more than they want hehehe...