How fare the Clixsense is?

6 responses

• India
9 Jul 08
On reading your discussion I just tried the clixsense just now. It opened frequently. The problem may be your computer's. Try to open some other sites and make sure your computer or browser is ok. I am josechukkiri from India.

• Philippines
4 Jul 08
i've just registered to this clixsense site..how does it go?and please share your experiences to me..

• Indonesia
4 Jul 08
Mine it's ok, Its slow though! my earning still $3.23 there.

• United States
3 Jul 08
Clixsense is working good for me and I am very close to cash out again. I have been paid and they are a very good site! God bless!

• United States
3 Jul 08
i have used clixsense long time ago and ive been paid 5 times already and it is so cool. i tried to open clixsense right now and i did open it and i have no problem opening the site and my account. i really dont know what problem are you experiencing in clixsense. it is maybe your browser or your connections. try to restart your browser or computer. or try cleaning up your cache and cookies. hope this help to you!

• United States
9 Jul 08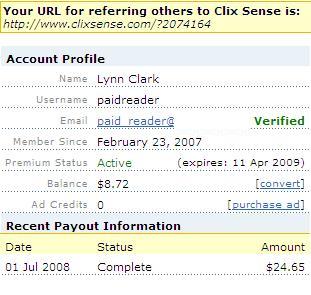 I've been a member there for 16 months and there can be the occasional problem that keeps the site from coming up, but nothing recently. As mentioned, you may need to clear your browser cache, and dump your cookies. It probably wouldn't hurt to reboot your computer after that and try opening the site again. As for the question of if ClixSense is fair, I say yes. I have received 13 payouts in the last 6 months and the payouts always came on time. At the moment I have $8.72 and will probably get paid again at the beginning of next month.