Celebrity Reality TV...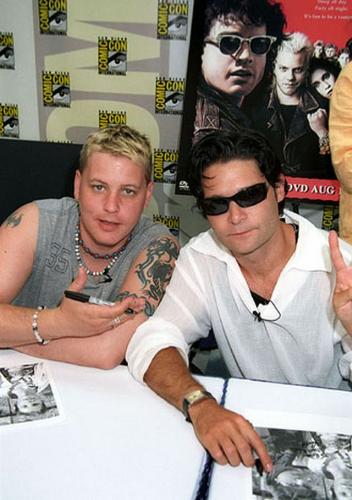 Turkey
July 4, 2008 12:11pm CST
TV is certainly not what it used to be when we were growing up. Every day now new reality shows are being created and especially those including the lives of celebrities. I am ashamed to say that I'm a guilty of watching some of these so called celeb reality shows. Some of the ones that I watch include Life Of Ryan, Tory & Dean Home Sweet Hollywood, The Two Corey's and Living Lohan. Why do I watch these shows you're probably wondering? Well, I will tell you... Where I know some of it is probably put on for the cameras, (I mean come on, they're still celeb's vying to keep their moment of fame in the world), I just like that view into what life is like for those in the public eye when they're not working. I find it interesting to watch them struggle with some of the things that I myself struggle with. It makes them more real to me as imperfect humans like myself. I really love Tory & Dean. I feel for her because on the show she cries because of her broken relationship with her mom and her fear that she will not turn out to be a good mom because of that. She shows real emotion that you can tell is not faked... As for the show The Two Coreys, well, I grew up a fan of Corey Haim and Corey Feldman and it's great to see them again. However, I do have to wonder why they would bring their problems to reality TV for the whole world to see? They say it's for a comback but is that really the comeback they want? To be known for all their issues and problems? Again, this is what keeps me glued in, that glimpse into their private lives that normally we would not be allowed to view. And then we have Living Lohan...I have only really seen about 2 episodes of this one but I watch this one because I hear so much crap about this family that I want to see for myself how they react with one another and I want to get as much of an inside scoop as I can (as much of an inside scoop as I can get with all the cameras and tv crew around) lol... What do you all think about celebrities and their sharing their lives on TV and with the world? Do you consider it a waste of time or are you hooked (as I am) despite your disgust with reality TV? Please share...
3 responses

• Singapore
5 Jul 08
yeah reality shows are totally fake there is nothing new with that....they all are here to just for making money as they are making.....and those who watch they give them a platform to continue these reality shows...i am fedup of all these shows.

• Turkey
5 Jul 08
I guess I one of those who give them a platform to stand on but where I hate some, others I think are interesting and I'm entitled to feel that way...

• United States
4 Jul 08
From what I've seen of them, reality shows are totally unreal. People do things they wouldn't so in a million years, for the audiences. The viewers are made into voyeurs on some of them. In others, they compete in, apparently, who can be the most disgusting. I've seen The Biggest Loser a few times, and I liked it because it was real. Those people were busting their butts to lose weight, and most of us know how hard that is. Many were motivated to work hard on their own diet and exercise regimes as a result of this show. But shows where people eat disgusting things or endanger their lives to try to win are just nasty! Show's like Idol or America's Got Talent are much like the old-time talent shows they had when TV was new, and they've discovred some wonderful entertainers. Watching people live in front of cameras doesn't seem healthy. Let the writers come up with good programming, and let us use tv as an escape from reality now and then!

• Philippines
4 Jul 08
Hi, I'm not a fan of this celebrity or reality shows

. I think some of them are just making it up for the ratings... I often scanned the t.v for some good shows and often cringe when i see celebrity stars in reality shows... But i respect your opinion about them, you like the show because it shows about how they struggle with the tasks they are made to do. Sharing their public life can be intriguing to us. Giving us a glimpse of how the rich and famous live.. if they are human too.


• Turkey
4 Jul 08
Oh trust me, there are moments when I myself cringe at some of this stuff but yet I keep watching ;-P Thanks for understanding and accepting my reasons for watching these shows, that's really cool of you! :-)