Introducing Sydney!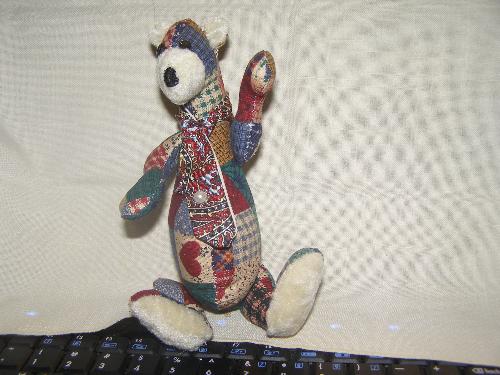 United States
July 5, 2008 4:55pm CST
Here is the newest bear I have done. I will be listing him on Ebay tomorrow. He would be 10 inches tall if standing. He has a wacky tie complete with tie tack. He is jointed. His paw pads and inside of his ears are done in velvet the rest in cotton fabric. What do you think?
4 responses

• United States
7 Jul 08
Ok, could you please post the link to Sydney's auction site so I can see how he's doing? Who knows, I might place a bid on him myself.


• United States
7 Jul 08
http://cgi.ebay.com/ws/eBayISAPI.dll?ViewItem&ssPageName=STRK:MESELX:IT&item=200236887909 Hope this takes you to the right place. If not I am seller ID sweetdesigninc if you go to community you can look me up that way.Thanks for checking Sydney out.

• United States
9 Jul 08

I did nuffin' I tell ya..nuffin'




•
6 Jul 08
I love him SD, and he has a wonderful expression on his face

The only negative that I can see, and I really hope you don't mind my commenting, is that I don't like his tie. The colours of it are too similar to the colours of his body to stand out nicely in a photo, so it gives it a sort of cluttered look whereas a more plain tie might stand out more. I expect it looks far better in reality than in a photo though. I do hope you have a turnaround in your eBay fortunes and that Sydney attracts lots of bids for you. I don't see how he could NOT actually!

• United States
6 Jul 08
Thanks. The tie looks much better in person (it so hard to convey how great something looks when using a photo lol). I hope things start to turn around in ebay too. I am hoping that the bears really start bringing in a much needed income.

• United States
6 Jul 08
Sydney is now listed on Ebay! I got his photo shoot done this morning and finished up his auction page and got him listed. Hope he does well. Wish me luck!

• United States
8 Jul 08
Sydney is toooo CUTE!! I don't think the bidding on Sydney will stay at the starting bid for too long! Very cute! Have you tried selling at craft fairs or shows? I think your creations would do very well. They'd make a great B-day gift!

• United States
8 Jul 08
I am trying to find out about craft fairs and shows here in Jacksonville but this is really not a crafty city it is more like a metro city.

• United States
8 Jul 08
I hope he gets a bid soon. He has had 20 people look at him though.

• United States
5 Jul 08
That's wonderful! Definitely, as the previous poster said, check out etsy. There's a better market on etsy, it seems, for handcrafted works. You do an excellent job!

• United States
5 Jul 08
I am already on etsy but have only had two sales in two years. I will probably list my bears on there eventually.