Chuck Norris

July 5, 2008 5:14pm CST
Post any Chuck Norris fact you can think of. Chuck Norris' tears cures cancer, too bad he never cries. Ever. and etc...
3 responses

• South Africa
5 Jul 08
Chuck Norris was in the original draught of Lord of the Rings instead of Frodo Baggins. Unfortunately, the story came to an end half way through the first chapter because it only took Chuck 5 pages to defeat Sauron.

• United States
5 Jul 08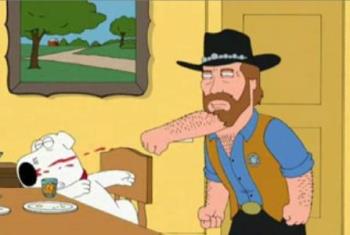 Chuck Norris is so tough that under his beard there is not a chin only another fist!

If you do not believe it see it here: http://www.teenwag.com/playvideo/5084 Have a great day!!!

• United States
5 Jul 08
If you spell Chuck Norris in scrabble, you win FOREVER