Nadal is the new wimbleon champion

India
6 responses

• Philippines
7 Jul 08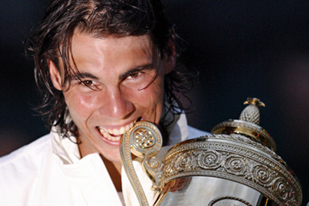 Yes!!! i've read it in the internet! Nadal is the new Wimbledon Champion! woohoo! i love Rafael Nadal and i've been following all his matches and i always get disappointed when Roger Federer constantly beats him at Wimby. but this year was different! My gosh. i was so shocked to hear the news from a friend! i immediately checked it out in the internet. and there were the news! Rafa was so great! He made a history! three French Open trophies plus one Wimby trophy! woohoo! Viva Rafa!!!


• Philippines
8 Jul 08
i'm sure it was an awesome fight and Nadal really deserved to win. after all. he worked very hard for it and he's been fighting Roger in the Wimby finals for the last three years!



• Pakistan
6 Jul 08
what a match it was, truly awesome. both players played really well. The scoreline resembles much like last year's wimbledon final which was also a 5 setter but the main difference is RAFAEL NADAL is the Wimbledon WINNER this time and he truly deserved it. Rafael Nadal played really well in the first two sets and it was hard for federer to come back. but he hold his nerve and came back in a great way by winning two tie-breakers. It was a hell of match but nevertheless RAFAEL NADAL deserved it really and he proved that he is not only king of clay but one of the greatest players.. CHeers RAFA

• India
19 Jul 08
ya it was one of the greatest matches of all time........both men showed xcellent athletism and fitness as each point was fought hard and even the rain stopped to watch two warriors battling it out.........nadal deserved to be a champion as he has improved his game remarkably on grass.....but federer showd what a champion is made of by playing some outstanding tennis in the 3,4,5 sets.....but in a sport there has to be one winner and it was fittingly RAFAEL NADAL...........

• India
6 Feb 10
yes but fed regained his title, thats why he is a real champ !

• India
17 Jul 08
well .. yeah it was one of the greatest tennis match ever played .. n its not only me thats saying that its the whole world .. the longest .. wimbledon final .. to be played surpasing the match between john mcEnroe and bjorn borg. well its good for tennis . coz . federer was too dominating in grass ..having won it 5 years continously on a row ..now .. i believe . federer .. will try to .. break the stranglehold of nadal in clay .. its gonna be some exciting match up between them nw :)