Lily bed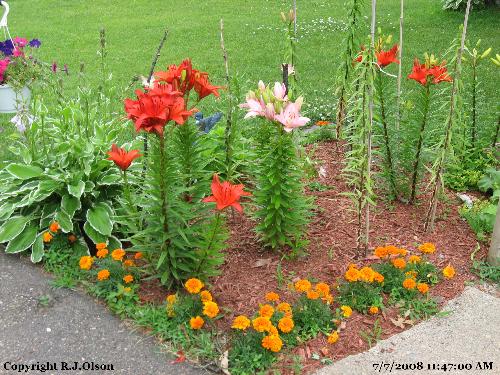 United States
July 7, 2008 12:03pm CST
Someone asked to see a photo of my lily bed after I had posted a shot of my Orange Tiger Lilies. Well this is one of my Lily beds. This is the one I tend to the most. It has Tiger and Asiatic Lilies in it. There are maybe 15 or 20 Lily plants here. It has Marigolds as a border. It has a Hydragena Bush also as well as Ladies Mantle and a huge Hosta. The Lilies are orange, Pink, White and pink, and yellow. There may be other colors but at this time I can not recall if there is. Do you have a large are out front that is specifically for a certain type of flower? If so what flower and how many? HAPPY POSTINGS FROM GRANDPA BOB !!~
4 responses

• United States
8 Jul 08
As usual, getting my graden and flower fix by looking at your photos.

. What nice color you're getting - the bed is obviously well tended - nicely spaced and mulched and weed free - you're working!! I had a hydrangea - what color does yours get? Mine was pinkish-white and had a blue one around the corner from it.

• United States
8 Jul 08
Thank you very much. I try my best to keep it looking as well as possible. the colors and shape change daily with each new flower opening as well. next year I think this bed will be all Lilies surrounded by some annuals that will change each year as well. Mine I think is a blueish pink. HAPPY POSTINGS FROM GRANDPA BOB !!~

•
8 Jul 08
Awww AGB How beautiful! I sure wish I could look out on a view like that everyday! Maybe some of your skills will begin to rub off on me and one of these days I will be on my way to being as talented as you! I sure would prefer that to the brown thumb I have at the moment! Hugs xxxxx

• United States
8 Jul 08
Thanks bunches. Maybe it will some day rub off to others here. I do not think of it as talent. It's just something I do and seems I do it fairly well is all. A hobby, pasttime etc. HAPPY POSTINGS FROM AGB !!~

• Philippines
8 Jul 08
good day grandpa bob... you're just great with flowers and no doubt you have a green thumb. Do you learned to cultivate your flowers by yourself? or learned form someone or from the books. It intrigues me. thanks.

• United States
8 Jul 08
I leard it from trial and error mostly. I do seem to have a green thumb. but I do know you need good soil for anything to prosper so I tend to my soil a lot each year. Thanks. HAPPY POSTINGS FROM GRANDPA BOB !!~

• United States
8 Jul 08
That was probably me that asked, you have such beautiful flowers! I like the way you put them together.

• United States
8 Jul 08
Thank you very much. This area will change more than likely this fall as I want to transplant more in this area and move some others from here. Thanks again. HAPPY POSTINGS FROM GRANDPA BOB !!~