My teeth are extra white today!

United States
July 7, 2008 2:57pm CST
My teeth look extra white, ahha. I like it.. yet, i'm wondering what exactly caused it. I mean, I brush my teeth all the time so that's nothing new.. maybe the lack of drinking soda? haha. I don't know, what do you think? haha, and sorry. I didn't know what else to talk about today!
3 responses

• Philippines
9 Jul 08
Wow. You inspire me to not drink soda or anything too sweet for long. But I wonder how long I can keep this up.


• United States
13 Jul 08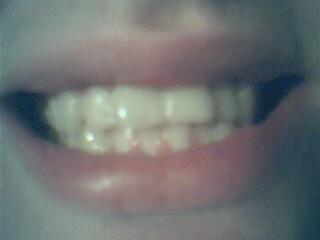 Well I still drink it, I would say.. at least twice a week. Lately though I was drinking a lot of water.. but ooonnlyy because I was way sick with bronchitis.*sigh*, I think that's all goone and out of my system though finally! I had it for like. A few months at the least

Sadly! That may mean i'm going to pick up drinking soda again...

Anyways, i'm glad I could be inspiring!


• Malaysia
8 Jul 08
Hi Louie, first of all from your words: ahha and haha x 2 in your description above, I believe you are in pretty pleasant mood today, so everything goes right. Of course, definitely your teeth would look extremely sparkling white. In the meanwhile your lips are looking healthy red and darker in color so your teeth would definitely appear to be whiter due to the contrasting effect. Or might be you had taken acidic food which might have bleached the teeth earlier to make them to look extra white.

• United States
13 Jul 08

haha, oooh. I think it was more of a random mood then anything. Don't think I was really happy at the time, or relaxed or anything.. maybe bored

& couldn't think of anything else to discuss & while typing up the discussion.. I was thinking to myself how silly it was hence where the ahha's and the haha's came from!

But yeahhh. It could be any number of things.. I forgot what I had to eat that day.. I think chinese food! lol, Not really 100% sure though.

•
7 Jul 08
maybe your eyes have just gone funny? :P I dunno, new toothpaste with whitening agent? or maybe eating healthier.. who knows?!?!?!

• United States
13 Jul 08
haha, eh! I think it's more of a case of my brain going funny then my eyes! I mean, who makes a discussion about teeth, =P Apparently I do! Aha. Eh. I wouldn't say i've really been eating healthier.., buutt. I guess to some degree you could say I have been!