My photo didn't load...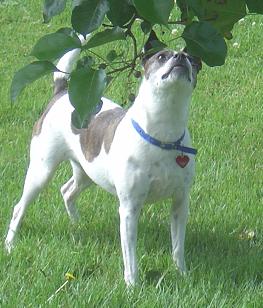 United States
3 responses


• United States
9 Jul 08
A reply from you is always a treat, especially since I get to see that cute photo!


• United States
8 Jul 08
Cookie looks like very smart dog. Looking for birds? Is he hunting? My dogs are always looking for squirrel on the tree. They don't care much about birds........

• United States
8 Jul 08
She is very smart! She can usually trick Gus out of his chewstick.

The squirrels drive her nuts, she'd never seen any before we moved back to my home state. They'll sit on the telephone wires and she'll bark at them--they look down, twitch their tail and run back and forth as she follows them!


• Canada
9 Jul 08
It did upload. I think it has to be a small size. I found that when I tried to load photos the way they are on a digital camera, they would not, but when I made them a smaller size then I was able to upload them. I think up to 12 kb would be all right. You will not have any problems then. I also think you have to do the tag for photos as well.