My Birthday`s Comin Up...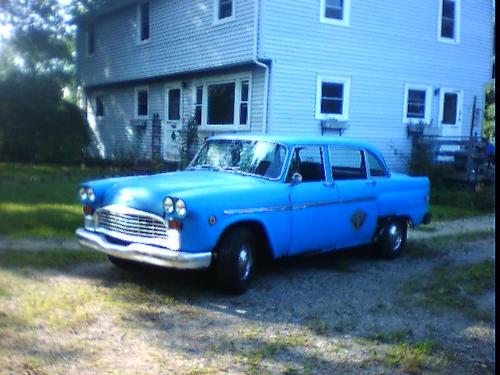 United States
July 7, 2008 4:55pm CST
i got my gift from Malliki early.. dad and i used to yammer about finding us a junker classic to restore. wed check the papers, make stops here n there, hed do a drive-by point of "ohhh if that was only for sale!!" unfortunately.. we never found the right car at the right price before he got sick.. and now hes gone. my husband came home saturday after running errands.. cheshire grin on his face.. "i think ive found yer birthday present!" he tells me. and it was dropped off in my driveway about 10 minutes ago. a 1969 Checker. the same one in the same yard that dad used to drive past and say "if only..." the man finally put it up for sale.. and now its mine! im going to restore it all by me onesies and get it road ready.. complete with the lisence plate of Earl-1, in honor of a man i loved so much.. who didnt get the chance to live the dream with me. quite possibly one of the best birthday gifts ive ever received in my entire life. whats yers?
6 responses

• Regina, Saskatchewan
7 Jul 08
LOL - are you calmed down yet? Your first link sent me right to the picture which I of course commented on! LOL Congrats on achieving a dream Tess. Lucky girl you! Are you going to restore it to the original checker pattern of the old checker cabs? I can hardly wait to see the finished product - and I was only kidding about the pink polka dots comment on the picture itself! ROFL!

• United States
7 Jul 08
LOL only slightly calmed! im sitting here giggling to myself inbetween sobbings LOL im gonna paint it black metalic, with the checker emblem on the door same as it is now, and already got my first parts.. an original bumper, new brakes, new carb, and new filters.. that the guy included with the price. i cant wait to get my hands dirty


• Regina, Saskatchewan
7 Jul 08
Salt water and metallic paint don't mix well, so stop sobbing, keep giggling and get to work! LOL I'm so happy for you Tess. So good so see GREAT news here for a change. But I'm still jealous as all get out, so I'm not talking to you anymore today! ROFL Don't forget pics!!!!

• Australia
16 Jul 08
I'm not sure what a Checker is but I'm thinking that's a super present...specially as it's the same one your Dad wanted. Bloody shame he's not there to share the journey with you. Congrats; Special hugs for lovely Mal and a big Happy Birthday to you for whenever.

• Philippines
8 Jul 08
Happy Birthday!!! and may you have more birthdays and gifts and blessings to come.

• United States
8 Jul 08
I'm beyond happy for you, Tess my love. And if anyone can get it restored 'onesies', you can. If you need any help, however, I have a top notch mechanic/restorer-of-classic-cars very close and fabulous friend that could offer any help and advice that you might possibly need. Happy Birthday, my darling friend. Squishes, kisses, and verrrry warm cyber-embraces. I need to talk with you as soon as possible for both of us. It's about my best friend. It's bad. Tomorrow is out, most likely. I'll e-mail you about it. Love you. XXXX

•
7 Jul 08
Oh Tessah, Wow that is amazing, oh I am so pleasaed for you, I bet you can't wait to get stuck into this restoration project. What a lovely tribute to your father having that number plate, what a darling you are. Mine is not a measure on this one and I am just so happy for you. Ellie :D

• United States
8 Jul 08
Awww Tessah. That is soooo cool!

I'm sure that your dad would help you restore it, too, if he were still here. You have a wonderful hubby, too, for him to get that car for you for your birthday. He knew how much it meant to your dad and you.