Money for Olympic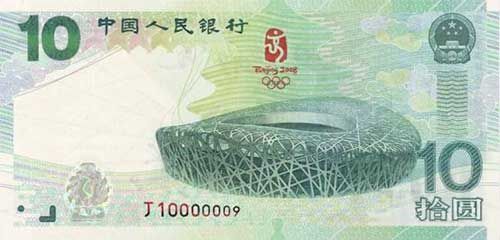 China
July 7, 2008 10:06pm CST
Hi everyone, do you know this money? It will be issued for 2008 Olympic by China Centre Bank soon. Face value RMB 10.00, Only 6 million. So you are lucky if you have chance to get it.
4 responses

• United States
8 Jul 08
thats so cool what dose RMB stand for though?

• China
8 Jul 08
Hello dear jaysport. RMB is the abbreviation of RenMingBi, which is the monetary currency of China. Its units can be divided into Yuan, Jiao, Fen, of which Yuan is equal to Dollar, Dime and Cent. I hope that it is somewhat clear to you. Good day.

• China
8 Jul 08
Hello dear wz. I read about the news and saw how it looks yesterday morning. I think that it must be exciting to see a new edition of the ten-yuan note with the bird net as its pattern in memory of the 2008 Olympics. It is very meaningful to have it published, I think. Thanks for the discussion.

• China
8 Jul 08
Sorry ,I don't know ,could you tell me in details, I also want to get 10.00RMB! Very thanks!

• China
8 Jul 08
hi my friend: yea, that is really great.we are lucky to get them soon.It looks like more beautiful. If i can get one, it will be collected.If i would, i could. THanks for your share. Good luck