Are you short-sighted?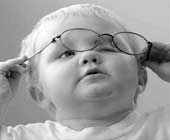 China
July 8, 2008 12:14am CST
Hello,dear friends,now you are looking at my discussion and ready to say something,i want to ask you"how many hours have been spent by you here in front of the computer just staring at the screen?":) Yeah,nowadays,we almost can't live without computer,and our eyes will probably be the victim.Before,when i was a student,my eye sight is normal,but now,as a computer worker,my eye sight is becoming much shorter. So how about you?Are you now short-sighted?Do you pay attention to it while using compter all day? Take care,sincerely:)
5 responses


• China
9 Jul 08
hi, ifglan, i totally agree with you. i am also short-sighted. and now becoming worse and worse just because i have to use computer everyday. i do think most of people are like that. but if i am not busy in the office, i will pay more attention to my eyes, say, taking a rest once an hour, drinking more water, etc.

•
8 Jul 08
Hello ifglan, I need to wear reading because if I don't its all blurey and I could just see black line, but saying I am long sighted, when I look at the screen without my glasses and move back away from it I see clearly. Regards. Tamarafireheaer.

• Philippines
8 Jul 08
I am far sighted, and sad to say a computer induced condition. I have over strained my eyes over prolonged period in front of my monitor under poor lighting condition. Now I couldn't read text off my 19" screen without spectacle. We never should have take this things for granted.

• Philippines
12 Jul 08
I'm the same as you. I have normal vision when I was in school, but when i become employed in the company im now in, my vision has worsened because we're facing the computer the whole time at work. When I get home, I also face the computer because I play games, or surf the net for non-work-related stuffs. *sigh*