What kind of scrapbooks have you made?

United States
July 8, 2008 7:42pm CST
Until last year, I had never really got interested in scrapbooking. It seemed like it would be fun, but I had not had a reason to do a scrapbook. My oldest grandson was a football player and a senior in high school. I had decided that I would get all the needed articles and make him a big scrapbook of all his years in football up until graduation. I had accumulated lots of newspaper articles, pictures and other things to put in the scrapbook. I went to Michaels and bought a black leather book and lots of paper to work with. Took me right up until almost graduation to finish that book. I think it probably had about 40 pages or more in it. There were so many, I had to add the extenders. We also made him a CD of parts of games for his memory album. He really enjoyed it and it will be something he can keep for life. Then, came this year. You can't do for one grandchild and not do for the other. Our granddaughter was graduating, so that meant a trip to the store for another scrapbook and more items! This one took much more time to make than my grandson's. She was a soccer player but I didn't have as many articles in the paper to use. I had to be very creative. Thank goodness I had lots of pictures of soccer gsmes/tournaments and pictures from the trip to Oxford, Mississippi and Ole' Miss that she had to make and take pictures for a class at school. I happened to be with her and her Mom and took some great pictures. She was really excited when she opened her book and began to look at it. She only missed one thing - her favorite picture of her kicking the ball and I did not include that picture in her book. And I still have to make her CD for her memory album. We did not have time to do it by graduation. I was still working on her scrapbook the morning before her graduation!! Have you made scrapbooks for grandchildren or even your own children? These are books the children can look at and enjoy for a lifetime. I included many of their friends in theirs, too.
9 responses

• Canada
12 Jul 08
My children are three years, almost two years and 3 months old and I have scrapbooks started for each of them. Although I don't get a lot of time to work in them these days, things will get less hectic as they get older and I'll have more time to scrap. I did a book of my wedding for me, one for my mother, I did one for my sister of her wedding. We have one that I finished of our trip to the Netherlands, and I did two of my trip to Scotland with my sister (one for her and one for me). I've done quite a few miniature ones as gifts to aunts, grandmothers and friends etc. I guess I've never had a reason not to scrapbook. LOL

• United States
12 Jul 08
Sounds like you have definitely been busy scrapbooking. I did my first one last year for my grandson. I guess I need to add that to my hobbies and do more. I definitely know I have at least 2 or perhaps 4 more to do. But it will be years before those have to be made. May have a grandchild marrying before then.



• United States
9 Jul 08
It had never occurred to me to make a scrapbook of vacations or Christmas. Maybe I can think about doing that this year. We always take loads of pictures and I'd have lots to work with. I've seen some gorgeous scrapbooks that other women have made and it just got me wanting to do one for the kids. Now I just have to make sure I have enough things to use for the next two boys. The older one was going to tear a page out of something of the younger brother's and he hollered at him not to do that, because it was something Nanny would put in his scrapbook when he graduated. So, he's only going to be in the 7th grade and already thinking about his book. I think I got something started.


• United States
9 Jul 08
awww...well c that is so nice!!! Yeah, it will b something that ur boys can have 4 an entire lifetime & they will know how much work u put n2 it too. it does take a while but its rewarding! My son just graduated kindergaten & i did 1 for him & he loves it too. has all his stuff n it like his diploma & things he got while n school, his award he got during the end of yr award ceremony. yeah, u can buy lil hole punches that have diff designs u can make borders out of & u can also buy diff types of u know colored & designed paper. i always buy a buncha stickers u know & i also use all kindsa lil small beads sometimes & either kinda glue them on the paper or make sorta like a necklace or banner & write some w/letter beads. some else i do is just take a reg hole puncher (u know 4 papers 4 like a binder) well i will just punch holes n all kindsa paper. u can use the paper as a designed piece if u want & then i keep the lil papers that i punch out instead of throwin them away & use them 4 decoration too. :0)

• United States
18 Aug 08
What a wonderful thing for you to do. I am sure your grandchildren love and will alway cherish the scrapbooks you made them. I have made scrapbooks for my children, our everyday lives, organizations I volunteer for, for my relatives special milestone birthdays (95+ years old), trips I have gone on, and small one with quotes, tag albums for special presents. Everyone has always told me how much they love receiving them, which makes me feel so good. And I know they will always keep them as well.


• United States
12 Jul 08
I had intended to start scrapbooking several years ago for fun. I still have the scrapbook-- as empty as the day I got it. Maybe, if and when I have children, I will find the motivation to scrapbook for their sakes.

• United States
12 Jul 08
I know what you mean. I've done that about other things, having every intention of doing it and never getting started. My daughter bought everything to do one, and her daughter took her expensive book and made one for a school project. I think she never bought another one.

• United States
4 May 10
I started Scrapbooking 15 yrs ago with my daughter and I am amazed that we now host our own Scrapbooking Retreats in Virginia. We have scrapbooking weekend retreats in Virginia Beach "Oceanfront", Fredericksburg, Virginia, Outer Banks, "Nags Head" Oceanfront, and Williamsburg Virgina. I got started scrapping with my daughter 15 yrs ago and she is still with me. We have a great time. Check out Virginia Scrapbooking retreats on the web.

• United States
14 Sep 08
SO many - 12x12 for my two kids - they each have 4 now. One for my GD - 2 now. A travel one of all the little trips we have been on, a family one for each of my 2 borthers and each of my parents, one for my aunt, a wedding one for my daughter, a personal "my life" one for me and my own life since my kids

• United States
18 Jul 08
I don't have time or the creativity for a scrapbook. I have a bunch of photo albums and photos sitting around. I don't know what to do with them, but I figure once I get the time and money. I can learn scrapbooking and then create a really nice one. I do plan to do one for my son when he gets married and same for my daughter. But I figure I got time they are only 12 and 5 years old. Hehehe. LOL. Thinking to far in advance yes it is fun watching the kids look through the album and realize all the fun stuff they done as kids. What is best is they also realize how much you love them that you had to take photos of them doing pretty much everything. I love taking photos of them doing stuff, I am not a fan of having them pose for the pix.

• United States
15 Jul 08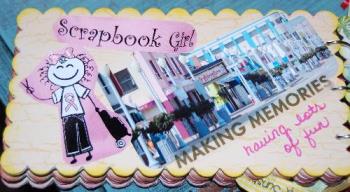 I love that you did the scrapbooks for the graduates. I love scrapbooking, I got into about 3 years ago when me and my s/o met and I moved 1600 miles for us to be together. I made mini-scrapbooks this past year to send to my parents, sister, and youngest daughter, high-lights of 2007, they loved them. Since I knew they would all be together at Christmas, I made each one different, they loved sharing them. I have done an album 12x12, for each year me and my s/o have been together, it's about all I can fit into one album, is one year's worth lol. I have a 12x12 for my dog, and she has a small one (8x8) that I'm working on now. I have 2 albums, one for each of our careers, and I have one that is on-going, 12x12, that is 'keeping in touch across the miles', cards and other things that I get from family. I did an 8x8 album for my trip this past Feb., my daughter treated me to a Weekend Crop Retreat in Virginia Beach, we had a blast. And I'm working on 8x8 albums, these are orders, they are for each individual girl on the softball team that my s/o has helped coach this summer, so far I have 3 orders for them. And I have done several of the chipboard albums, they are really fun to make.