What Do You Think Of The Pope?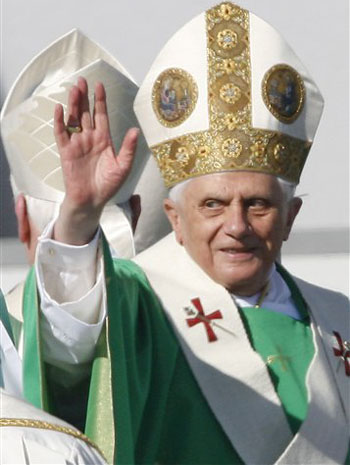 United States
9 responses

• South Africa
9 Jul 08
I don't trust the current pope. He looks way too much like Darth Sidious. Apart from that though, I don't think that there is a big problem with the pope in general. The church is a huge organisation, someone has to be the leader that keeps everyone working towards a common goal. I'm not sure what the goal in question is but ask someone that follows the religion in question. It's probably something about making the world a better place or converting lots of people or something.

• Canada
9 Jul 08
Hi etnad0, Most catholics have great respect for the pope, but they don't really worship him. He is the head of their church and they hold him in esteem. I am not a Catholic, but have friends who are. There may be things in that church that I don't agree with, but those people have a right to their belief. My personal opinion of the pope is that he is a man like any other. Blessings.

• Eldoret, Kenya
9 Jul 08
The Roman Catholic Church teaches that he is the visible head of the Church on earth, the Vicar (or substitutes) of Christ. "In virtue of his office, that is a vicar of Christ, as Pastor of the whole Church, the Roman Pontiff has full, supreme and universal power over the church." ( Constitution of the Church, Vatican Council 11). The Roman Catholic Church proclaims the INFALLIBILITY OF THE POPE (proclaimed as late as 1870) when he speaks "ex-cathedra," that is from his papal throne on questions of faith and morals. Of course, this is contrary to scripture. John 14:25-26 teaches that the Holy Spirit, not a man, is the vicar or representative of Christ on earth. ( see also John 16:13-14) Matthew 23:9 "Call no man your (spiritual) father on earth for one is your Father, which is in Heaven."

• United States
9 Jul 08
1000% true. i'm glad you pointed that out using scripture. when it comes down to it, as a Catholic, one must either accept what the Bible says, or accept what the Pope says. if one contridicts the other, they have to decide if they are going to risk their soul by putting a man's opinion above the word of God.

• United States
9 Jul 08
First of all we catholics dont worship the pope. He is the head of the church. He is succesor to Peter whom Jesus placed as head of the church Thou art Cephas (Rock) and upon this rock I will build my church. Whatever you declair on earth will be bound in heaven and whatever you loose on earth will be loosed in heaven. Pretty clear to me

• United States
9 Jul 08
Jesus is also known as the rock, but most assume He was talking to Peter and not pointing to Himself when He said it. sort of a literary play on words. the more correct translation of the text is, "but upon this rock (pointing to himself) I will build my church" another problem with Peter being the foundation of the church is the fact that Christ, not Peter, is the what the church is built upon. there were also other disciples present that went on their own seperate way preaching the word. Paul also had to chastise Peter when he got out of hand, and most Christians hole Paul in a higher regard than peter.

• Slovenia
20 Jul 08
hmm... there are a lot of different Catholics & a lot of very different views of the pope, or the popes... Just curious, how many Catholic people do you actually know, & base this question on?:) & what do you mean by 'worship'? I come from a predominantly Catholic country & area.. & I don't know anyone who would 'worship' the pope, lol!! Many here are just careless or don't think much about all this anyway... You probably think much more about this, or the pope, than they do, lol!! There are only a few 'hardcore' 'old school' fanatics, but even those don't 'worship' the pope, but respect him highly, & think highly of him.. Sometimes without looking further than the title, but that is a danger that comes with every role, even politicians or other professions may suffer the same problem.. They may not like to hear you diss him, but then they may not like to hear you diss anyone!!:)/at least my father is like that!/I was brought up in a Catholic home (my Dad used to wanna be a priest lol) but now consider myself as 'more spiritual than religious'... I think people of all sorts of different religions & beliefs can be good people... & that probably at least 80% people are at least 80% good people.. (including the pope/s!! lol) I think the Pope has a 'tough job':), & he's just another human being.. My Dad argues popes are supposed to 'be infallible in church/religion matters', but not in other matters.. which is the official church view nowadays too.. I don't even think they're infallible in any matters, as we are all human & may make mistakes.. I really liked the previous pope, it was kinda like 'love to a rockstar', kinda like I like Bono from U2 or such../I don't 'worship' Bono! lol I just greatly admire what he does! & I don't like all songs, but really love some songs!!/ Going to see the pope was like going to see U2 & Bono... I think many pretty normal young people are in Australia right now, meeting the pope, mainly because of a wish for adventure & travelling & hanging out with other youths in a 'safe' environment.. (the pope thing may be even somewhat secondary..) At least it was kinda like that when we went to see the previous pope when he came here to Slovenia.. Most young people just went for the 'hang-out' factor..:) Had to chuckle at the 'Lord Sidious' comment & the other comment that the new pope be 'creepy'... I wouldn't call it so far, but.. yeah, I'm a bit uneasy about him too... I don't know what he has up his mind.. there were rumours about his past etc. I think he'd love to be as popular as his predecessor, but so far I think he's not, & may never be.. even among the catholic community, or the majority of it... I think it's good he publicly apologized to victims of abuse & condemned behaviour of the priests who did it.. Priests are not the only ones who did abuse, fathers or grandpas or 'uncles' or teachers or plumbers did it too... must we condemn all plumbers now? there are good priests who mainly improved quality of people's lives too.. I think every person represents Christ on earth, so that would include pope too:) & what would god say? Probably a different thing to & about each pope lol Did you have anything specific in mind?

• India
20 Jul 08
How do I feel about the way some Catholics almost worship the Pope? I feel amused and disgusted. They don't exactly worship him; but they revere him as much or slightly more than they revere God. Frankly, I think Catholics have forgotten there is something called God thanks to their large crowds of saints and so called "holy clergy." No, I don't think the Pope represents Christ on Earth. About what God would say? I don't know. I think He would maintain His habitual silence. Cheers and happy mylotting

• United States
12 Jul 08
Sometime it does worry me how much people look up to the Pope when God should be the issue. No, I don't believe the Pope represents Christ on earth. The Pope is a very good person and he has said he did not like the spotlight so its not like he craves the attention its just hes got responsibility. I really do admire the Pope for the quotes he has made.

• United States
9 Jul 08
i dont think its anything but a power trip.. but i guess if you are following a religion then it would help if you had a leader.. i liked the last pope but this one creeps me out!!

• Kenya
9 Jul 08
I dont know what God will say. But the pope is a rep of the pagan pontifex maximus who was the high priest of the ancient Roman college of pontiffs. He cant be a rep of Christ. The bishops of the R/catholic negate ITim 3:2-5. The apostle Peter was a married man, Mark 1:30, yet the pontiff is alleged to be his successor. LIES + LIES. .