Do you believe in eating more ice cream will make you fat?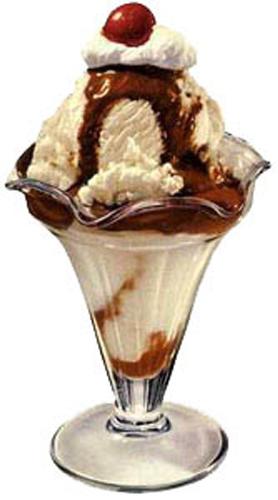 India
July 9, 2008 6:51am CST
There is one common saying taht eating more ice creams will amke one fatter and do you all believe in that a si ahve soem peoepl even after eating too many ice craesma slo they dont get fat even though many of them who are to lsim and ate dying to gain weight do all these eating ice cream exercises regularly
4 responses

• Trinidad And Tobago
10 Jul 08
If that were so I'd be very fat right now and I am extremely thin. But I am probably like one of those other people! Actually in reality I have a high metabolism and I do love my ice cream and do try to gain weight in the process. I make my own home made ice cream as well so it usually comes out very rich! I think ice cream can probably make one gain weight unless you are just born to be naturally thin.

• India
13 Jul 08
Thanks for you as you have made one clear point here and maybe this is true as if one is born to be naturally thin, eating ice-creams won't help in gaining weight and in other case if he eats more ice-creams he will gain weight for sure.perhaps you are also born naturally thin isn't it..? it seems so..

• Uganda
9 Jul 08
Infact eating icecream will instead make you lose weight-it is recommendd that for those over weiight ice or cold drinks and eats can do alot of good in weight reduction!

• India
13 Jul 08
This is one strange thing i am hearing here as no one commented bys aying eating ice-creams will reduce one's weight..! you ask anyone or even doctors and they say eating ice-creams will help out in increasing one's weight and not vice-versa.Anyways, thanks for the response you gave here and this has made me think it over again ask some other openions now

• Pakistan
9 Jul 08
who cares ....even if it do makes u fat...eat it or else its taste gona eat u...so i think eating an ice cream may or may not makes u fat.....but if u dont eat it....ur goin to miss "something" in life...

• India
13 Jul 08
One thing is sure and right as you said if anyone doesn't eat ice-cream will miss out something in life for sure.But here, ddiscussion is not on your liking or ice-cream as whetehr eating ice-cream will help out in increasing one's weight or not is the discussion here is all about

• Egypt
10 Jul 08
I dont think that, and if so ,would not stop to eat.